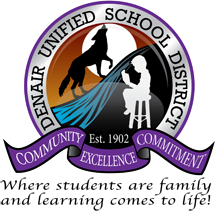 Submitted by Denair Unified School District
A passionate, purple-clad audience of more than 200 Denair residents, parents and students turned out Wednesday night with a common goal: convince a group of county leaders to leave school district boundaries in place and deny a Turlock developer's attempted land grab.
At stake is more than $1 million in onetime development fees, plus hundreds of thousands of dollars per year in state funding based on student attendance.
But more than money, what was clear in more than 2½ hours of public hearings in Denair and Turlock was the pride the Denair boosters feel for their schools, their teaching staff and their community. Many portrayed the boundary petition by home builder Ron Katakis as a thinly veiled attempt to diminish the quality of education received by Denair students and enable him to increase the price of his homes.
Denair superintendent Aaron Rosander captured the emotional pitch of the David vs. Goliath situation that pits Denair Unified, its 1,300 students and $9 million annual budget against Turlock Unified and its 14,000 students and $136 million budget.
"Small schools matter. Rural schools count. This is truly about small schools that make a positive, powerful and long-lasting impact on children," he told the 10 county schools committee members to loud applause.
Katakis' proposal involves about 91 acres at the corners of Tuolumne and Waring roads. The property is about a half-mile from the Denair schools complex on Lester Road, but more than two miles away from the nearest Turlock schools.
The land has always been within the Denair district, but Katakis petitioned the Stanislaus County Office of Education to move it to the Turlock Unified School District, claiming homeowners will likely identify with Turlock because the new neighborhood lies with the city limits.
But a procession of speakers at the back-to-back hearings in Turlock and Denair said it shouldn't be assumed that all parents will want their children to attend Turlock schools or that bigger is always better.
"I wouldn't go anywhere else," said Denair High student Hannah Knox, who lives in Turlock.
"Denair is not better, it is not worse, it is just different," complimented parent and education professional Dara Montano, whose daughter and son began in Turlock schools but enrolled in Denair as elementary students when the family moved to east Turlock. She spoke of receiving calls from Denair principals, the quality of education there and the warm welcome back her son received after briefly transferring to Pitman High in Turlock.
Three parents presented two petitions with more than 600 signatures from Denair residents opposed to the boundary change.
Other parents of Denair High alumni shared success stories of their children, who went on to receive college degrees and now have prestigious jobs throughout the state. Dale Backman talked about his daughter, Sarah Curry, who was named one of Stanislaus County's outstanding teachers in May.
Anna Parada credited Denair for exposing her to ag programs and preparing her to enroll in and graduate from UC Davis. She now works at Hilmar Cheese Company. Her younger sister, Alejandra, is Denair High's student body president. Their mother talked about the family's faith in Denair schools and how safe she feels the campuses are.
Many Denair staff and residents emphasized the community pride associated with their schools.
"When you choose Denair, you choose a home," said Michelle Bush, the district's director of student support services and a 25-year veteran of DUSD. She lauded Denair as a "hard-working community," adding, "At the heart of what we do is we care about making a difference in the lives of the students and families we serve."
Many of the speakers at the Coyote Center acknowledged Denair has overcome fiscal challenges and a near takeover by the state a few years ago. Some pointed to 8% to 11% salary reductions taken by employees that are still in place as a sign of their commitment to put students first.
"It wasn't me who balanced the budget. It was everyone in this room and in this district and the sacrifices they made," said Linda Covello, Denair's chief business officer.
At the earlier meeting in Turlock, where more than 50 Denair supporters crowded the room, only a handful of speakers spoke in favor of the boundary change. Chris Hawke, a partner in the development, spoke about "community identity" and said many parents in nearby neighborhoods already have transferred their children to Turlock schools.
Rosander later reminded the committee that boundaries between cities and schools are often very different. He also said that Denair and Turlock districts routinely approve transfer agreements that allow students to attend different schools. This year, 33% of all Denair students live in Turlock and another 9% have addresses outside the Denair Zip code.
Gil Ogden, Turlock Unified's director of student services, said among the estimated 600 out-of-district students attending Turlock schools this year are 304 at all grade levels who live in the Denair district. Interim Turlock Superintendent Dana Trevethan acknowledged that many Turlock campuses already are at capacity and that the boundary change might speed up the district's need to ask voters to pass a bond to build new facilities.
"I've got an answer for your impaction — Denair," said Denair High art teacher John Stavrianoudakis. "We're dying to grow. We're hungry. We've been waiting."
Committee member Betty Ustach expressed concern that there "could be a scenario in which there isn't room" for the additional students in Turlock if the boundary was changed. Committee member Joan Vargas told Turlock officials, "You're doing a wonderful job, but I hesitate to say you need more area. How can a small school district survive if we move students away?"
Committee member Judi Luna drew loud applause from Denair supporters when she said, "We can't assume (students) are going to get a better education in Turlock." She also pointed out the "conundrum of accepting 600 students from outside if you want to pass a school bond. That doesn't seem like a good argument."
The initial boundary petition specified 169 potential homes, but Hawke said plans are to build another 100. Denair's financial assumptions were based on the smaller number.
Developer fees – which are paid before construction begins — would amount to an estimated $1.4 million based on an estimated average of 3,000 square feet per new home in the first phase of Katakis' development. The fee is $3.36 per square foot.
Developer fees help school districts offset the cost of new facilities, adding on to existing buildings or paying off construction loans.
Also at risk is the $8,000 per student that the state funds each school district and helps pay staff salaries. Rosander said conservative estimates show that 90 to 100 students could be expected to live in the first phase of new homes, generating $750,000 or more in so-called "average daily attendance" each school year.
Many speakers referred to the impact of that money in the first year. For Denair, $2 million represents about 22% of its annual budget. For Turlock, the same amount of about 1.5% of its budget.
Rosander said the potential financial harm to his district is "terrifying."
Denair Trustee Carolyn Brown called it a "vicious cycle," in which the ability to add more college-prep and honors classes and other programs parents want, is threatened without the ability to pay for them. She called the developer "an opportunist" and said it's the Turlock districts "burden" to provide for the transfer students it accepts.
Denair High sophomore Holly Collins summed up the feelings of many when she said: "Small does not mean we're going to let people step on us. I'm very proud to be a Denair student. We've pulled ourselves through the hard times. … We don't deserve this devastating blow. … Turlock does not need these students, Denair needs these students."
The county committee has up to 120 days to announce its decision.