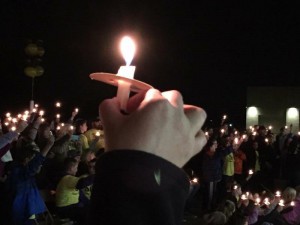 Submitted by Denair Unified School District
With an extraordinary December sunset as a picturesque backdrop, hundreds of students, teachers and community members gathered on the playground at Denair Elementary Charter Academy Wednesday night for a candlelight vigil to celebrate the life of Mark Selee. The popular fourth-grade teacher died Nov. 22 of an apparent heart attack.
Many in attendance wore bright yellow T-Shirts proclaiming, "Mr. Selee. Forever In Our Hearts!" The walkway from the parking lot to the playground was lined with luminaries decorated by fourth- and fifth-graders. The playground was chosen, DECA Principal Sara Michelena said, because it's where Selee often played basketball with students.
As people filed in, staff members distributed candles to everyone. Bill Morrissey, husband of teacher Patti Morrissey, set the mood with guitar music in the background. Colorful balloons swayed in the gentle evening breeze. A nearby table was full of photos of Selee and his students.
After Michelena welcomed the group, Ashley Eudy sang "Amazing Grace." During the song, the candles of nearly 500 mourners were lit one by one.
"It was beautiful. Perfect," said Michelena.
Pastor Dave Larson said a prayer. His is from New Life Church in Turlock, where Selee's funeral will be held Friday at 1 p.m.
Then, one after the other, all 26 students from Selee's class offered personal reflections. They recalled that he often was funny, that he loved 1980s rock music and the Pittsburgh Steelers football team, and that he hated glitter – which is why many of them respectfully used it as part of the signs and posters they created to honor him.
Two members of the Turlock Sea Dogs Swim Team, which Selee helped coach, spoke. They were followed by three of his DECA colleagues who knew him best – Morrissey, Tami Sondeno and Kirsten Sweeten. The audience then joined Eudy in the Christian anthem "I Can Only Imagine" before Larson offered a moving final prayer.
Michelena paid tribute to Selee's fondness for rock 'n roll by introducing another song – Twisted Sister's "Heroes Are Hard to Find." As the music played, people raised their candles toward the sky.
Finally, Selee's wife, Beth, thanked everyone for coming. She said her husband loved his students, the school community and his friends. She was surrounded by their sons, Alex and Peyton, and Selee's parents, Ruth and Bill.
Thursday morning before class, Selee's students released hundreds of balloons in his memory. In their classroom, a Christmas tree is decorated with ornaments remembering Selee. New teacher Mary Prine – a frequent substitute whose two children attend DECA – has taken over Selee's class for the rest of the school year.
"She's so perfect," Michelena said. "She said she felt like this was her calling. She's very sensitive to the students' needs."
Learning Director, Maria Yakoub, has been a frequent visitor in class this week, working with children individually and in small groups. Grief counselors from Jessica's House and the Turlock Chaplains group also have been on campus for students and staff.
Friday morning, KAT Country 103.3 FM will be on hand to broadcast the "Pledge of Allegiance" and pay tribute to Selee. People should listen just after 8 a.m., Michelena said.
Anyone who wants a Mark Selee T-shirt should go to the DECA Facebook page. The shirts are $10 and were designed by parent Breann Smith. All the proceeds go to the Selee family.