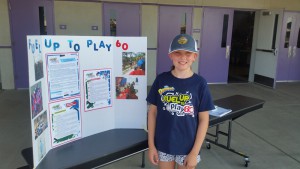 Submitted by Denair Unified School District
Brielle Prock is on a roll. Earlier this year, the seventh-grader at Denair Middle School was one of three California students elected to be an NFL Play 60 ambassador. And this month, she became one of eight students in the country awarded a $3,000 grant as part of the Adventure Capital Transformation Experience sponsored by the Domino's Pizza chain.
"It's pretty cool and I realize that a lot of people don't have some of the chances that I've had," said the precocious 12-year-old, who already has been to Chicago for a NFL Play 60 Challenge summit and next week will fly to Michigan for a meeting at Domino's headquarters.
"I think she's as excited about the snow as much as what we'll be doing there," said Ray Prock Jr., who will accompany his daughter to Ann Arbor.
"I've only been to the snow a couple of times. It's California and it's warm here," countered Brielle.
AdCap's mission is to inspire, empower and motivate "creative, curious and brave student entrepreneurs who wish to make changes in school and community health and wellness." Prock's project is to install a smoothie bar in the Denair Middle School cafeteria.
She emailed photos of a three-dimensional poster board drawing of her project in November, made the first cut and then aced a phone interview with a New York-based representative of the GenYouth Foundation. She was notified Dec. 3 that she won.
Prock said the idea for a smoothie bar originated last summer when she was in Chicago. She remembered it when her parents encouraged her to apply for the AdCap grant. She asked some of her friends, who told her to go for it.
In Michigan next week, she will participate in workshops with Domino's officials and the other winning students. She has visited Domino's test kitchen once before through her father's involvement with a dairy industry board. Among other things this time, she hopes to create a new version of a sausage, olive and cheese pizza. It wouldn't be her first creative recipe. As part of an NFL Play 60 project last summer in Chicago, she cooked up the idea of making a healthy veggie omelet using a muffin tin – something she dubbed a "mufflet."
The smoothie project dovetails with the NFL Play 60 Challenge because of its focus on healthy eating and nutrition. The football program provides funding and ideas to help teachers integrate health and fitness into their classroom lessons.
As an ambassador, Prock gets to represent the NFL at events around the state. Earlier this week, for instance, she was on hand in San Jose when the NFL and the 49ers presented a $10,000 grant to Monroe Middle School officials. Last month, she attended a 49ers game at Levi's Stadium.
Denair Middle School Principal Travis Manley said he and food services director Billy Reid already have discussed how to roll out the smoothie bar once the money is received.
"Brielle came to me and asked if she could do it (enter the AdCap competition). I said, 'Absolutely,' " Manley said.
Prock said her favorite smoothie flavor is pineapple. Some of her friends are lobbying for a strawberry/banana combination.
Manley said Prock is promoting other ideas as part of her NFL Play 60 ambassador duties, including a 100-mile club, which tracks how far students run or walk over a period of time. She's also helped create farm-to-food lessons showing how food is produced. Each project earns points; Prock already has more than 100,000. Among the rewards if certain thresholds are met is a campus visit by an NFL player.
Her goal is to earn a spot of the state youth council, which would allow her to mentor younger children until she graduates from high school.
"It's all about fitness, health, being active and taking care of your body," Manley said. "Those are important ideas for all our students to embrace. We're very proud of what Brielle has been able to do."
Prock said she was asked during her GenYouth interview what her career goal is. She said the answer was easy. "I want to be an actress." She's already got plenty of experience, having appeared in 17 drama and comedy productions at the Denair Gaslight Theater since 2008.
"I really like 'Mary Poppins' and Disney movies," she said. "I'm thinking of taking voice lessons next spring."