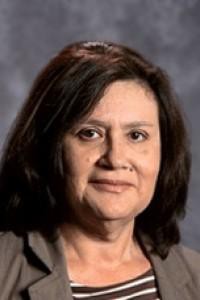 Submitted by Denair Unified School District
Name: Patricia Guillen
Family: Husband, Guillermo; daughters, Alexis and Marissa
School: Denair Middle School
Subject taught: 6th Grade
Experience and education: 12 years teaching experience. BA from California State University, Stanislaus
Why most inspires you about teaching? Student success is my greatest inspiration. Those "aha" moments from students and the pride and confidence that comes with that learning are what keeps me in this profession.
What are your biggest challenges as a teacher? My biggest challenge is having the sufficient time to collaborate with all teachers at my campus, not just my grade level.
What is your favorite teaching tool or activity? Student group discussions are my favorite activity. Listening to their discourse as they engage in designing a plan to solve a problem. Great learning happens when students are exploring new ideas among themselves.
How has Common Core affected your classroom strategy? Common Core has allowed increased opportunities for student creativity and self-discovery. For example, students utilize a variety of strategies or visuals to demonstrate their learning and mastery of a math concept.
What do you want your students to remember? I would like for my students to remember our class motto: "We can only get better!" Regardless of where life may take them, they should always strive to improve. Challenges are not a barrier, but a learning opportunity.
How can parents support what you do? Parents can support their children by having them read at home on a daily basis and provide them a place to do their homework. This will help reinforce their learning at school.
What will it take to improve academic success in DUSD schools? Academic success at any school requires complete collaboration among all the stakeholders (teachers, parents, students, administrators). On-going discussions and input about programs and services are essential to student success.
What's next in your classroom? Constant learning is always a work in progress. Currently, students have been introduced to percentages in math. They will now get a budget to make wise consumer purchases by using a variety of discounts.
What would surprise people about your job? I think people would be surprised about the time and dedication that is needed in the teaching profession. Breaks and summers are spent working on developing lessons or projects for the following year. Brainstorming ideas for my classroom is essential for me to grow as an educator.
What do you do for fun? I enjoy reading and spending time with my family. Traveling to Puerto Vallarta in the summer is one of our favorite family trips.