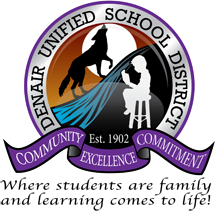 Submitted by Denair Unified School District
Is the next George Lucas or Steven Spielberg attending Denair High right now? Could be, given how well the campus' leadership class is doing in a video competition sponsored by a local newspaper.
Denair's videos have been chosen as the best in the first two weeks of the competition, which matches five schools in the Turlock Journal circulation area (Denair, Turlock, Pitman, Hilmar and Delhi). The videos about life on campus are due each Friday. The newspaper staff ranks them and then posts them on its website the following Monday on a show its calls "The Pulse," which it touts as being "made by high school kids for high school kids."
Each video is about a minute long. Denair's first shows a combination of students and teachers celebrating various themed days on campus. There was College Day featuring CSU Stanislaus, Fresno State, the University of Oregon and others. A clip showed other students on Book Character Day dressed up as "Where's Waldo?" and "Peter Pan." There also were glimpses of Outdoorsman Day and Coyote Spirit Day. The whole thing was set to upbeat music with narration.
The second video was cleverly produced around the benefits of life at a small school. The first segment shows "how good news travels fast" and has students sharing a secret one-by-one in the courtyard. Then there's a funny bit entitled "it's a hike to get to class" that spoofs the amount of time it takes to get from one room to another (in Denair's case, not very long compared to larger campuses). And the last part of the video highlights the closeness of everyone on campus, with a student saying, "Even though we're a small school, we're such a big family."
So far, the Journal staff has been impressed, saying after Episode 2 of The Pulse: "Denair has once again snagged the top spot! … Now the question is, 'Who can dethrone the Coyotes next week???' "
Want to see how creative Denair's students are? Check out these video links:
Episode 1: https://www.youtube.com/watch?v=I8Qu47AVEOU
Episode 2: https://www.youtube.com/watch?v=Vsp6PiiPwPo
Episode 3 (winter sports and the cheerleading team): https://www.youtube.com/watch?v=wM95ml1332Q