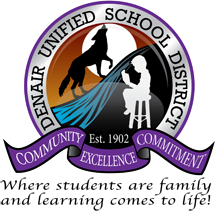 Submitted by Denair Unified School District
Officials from the Denair Unified School District will join representatives from 28 other districts Saturday at the 2016 Stanislaus County Teacher Job Fair.
Denair will be looking to fill these positions:
2 English teachers (Denair High School and Denair Charter Academy)
Math teacher (DHS)
Shared math teacher (60% at Denair Middle School, 40% at DCA)
2 science teachers (DHS and DMS)
Spanish teacher (DMS)
2 dual language teachers (Denair Elementary Charter Academy)
Music teacher (shared across all campuses)
The job fair is expected to attract hundreds of veterans teachers interested in switching districts as well as many younger teachers soon to graduate from college or about to get their state credential.
The event is scheduled for 8:30 a.m. to noon Saturday at the Martin Petersen Event Center, 1100 H Street. More information is available at www.stancoe.org.