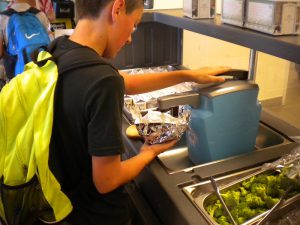 Submitted by Denair Unified School District
All children 18 and under who live within driving distance of Denair Middle School are invited to participate in a free breakfast and lunch program beginning Monday. Children do not have to attend Denair schools to participate and there is no income or other eligibility restrictions.
The program is a collaboration of the Denair Unified School District and the California Department of Education,using federal grant money.
"Just show up and we'll feed you a delicious, nutritional meal," said Billy Reid, Denair's food services director.
The program will be run from June 6 to July 1 and again from July 11-22. Breakfast – including plenty of locally grown fresh fruit and milk – will be served from 9 to 10 a.m. Lunch – featuring fresh vegetables, more milk and healthy juices, plus favorites such as hamburgers, burritos, peanut butter and jelly sandwiches, and pizza – will be served from noon to 1 p.m. The menu will change daily.
Reid expects up to 30 youngsters for breakfast and 60 or more for lunch, but said there is room for hundreds more interested children. He emphasized that all children are welcome – a convenience for busy moms and dads who don't always have time to juggle making breakfast or lunch with their jobs or running kids to other activities
"I'd love to see more participation," he said. "You know there are people out there who need the help."
The food is paid for through a partnership with the state's Nutrition Services Program.
The summer food program is modeled after a very successful after-school version that was launched in January for all students in the Denair Unified School District. Unlike that one, this one has no geographic boundaries.
Each day, dozens of children of all ages lined up outside the Coyote Center once class was dismissed. One day last month, students had their choice of broccoli spears, milk or juice, fruit and PB&J or a homemade burrito. Based on the smiles of those eating at the outside tables, the menu was a hit.
Reid and his staff are very organized, wait time is minimal and most youngsters are in and out in a few minutes, though they can stay and talk to friends as long as they want.
"Fruit goes like crazy. The vegetables – some take a lot, others won't," he explained. "We encourage everyone to have at least three (food) components on their plate."
For more information about the program, call (209) 668-5804 or go to www.culinarycoyote.com.