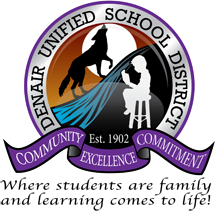 Submitted by Denair Unified School District
Like their peers in Stanislaus County and across California, Denair Unified students did better in English than on math in new state test results released this week.
The computer-adapted tests were given to nearly 3.2 million students in grades 3 through 8 and 11. The questions are based on students' right and wrong answers to help determine their knowledge in a given subject. There also are essay questions and problem-solving tasks.
Educators agree that the new tests are more difficult than the multiple-choice versions they replaced, which were last taken by students in 2013.
In Denair, 681 students took the tests in the last school year. In English, 32% of all students met or exceeded the state standards, with the best scores at the middle school level. That compares to 33% in the practice tests taken one year earlier.
In Stanislaus County, 41% of students met or exceeded English standards. Across the state, 49% were judged to be at or above grade level.
In math, 17% of DUSD students met or exceeded state standards, with the best scores at the elementary levels. That compares to 20% in 2015.
In the county, 25% met or exceeded state math standards compared to 37% across the entire state.
"State testing automatically invokes comparison and compels improvement, not at all a bad thing," said Denair Superintendent Aaron Rosander. "However, we must be careful not to rush to assumptions on why scores are comparatively low or high. The idea is to use the test for self-reflection and prudent analysis. With thoughtful adjustments to student use of the new technology format and to curriculum, test scores will quickly take care of themselves."
Parents will receive individual student scores in the mail. For those who want to see complete district results or seek to a comparison with other schools or districts, all results can be viewed at http://caaspp.cde.ca.gov.
In addition, parents can access other test-tracking resources from the California Department of Education at http://testscoreguide.org.
The California State PTA also offers testing information and analysis at www.capta.org.