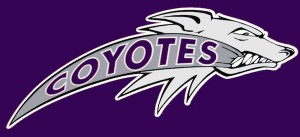 Submitted by Denair Unified School District
Hang on to the ball and they have a chance. That's what Denair High football coach Anthony Armas will be drilling into his players this week after a frustrating 27-19 loss to Summerville in the season opener Friday night.
The scrappy Coyotes, who dressed just 16 players, were undone by three fumbles and an interception. Two of the fumbles came in the second half, when Summerville rallied from a 19-13 deficit to take the lead. The interception came on the final play of regulation, when Denair quarterback Kyle Prock heaved a pass toward a teammate rather than take a sack that would have allowed the game clock to expire.
"We did well. We were able to move the ball, but the turnovers in the second half killed us," said Armas.
More than 1,000 fans were treated to a back-and-forth game on a beautiful summer night at Jack Lytton Stadium.
The Bears (1-0) opened the scoring on a 10-yard pass from Gabe Walker to Zach Marquez in the first quarter.
The Coyotes (0-1) came storming back, taking advantage of Summerville's own sloppiness (three turnovers in the first half).
Justin Steeley tied the game at 7-7 on a 7-yard run to cap off a nice drive. Then late in the first quarter, after the Coyotes' recovered a fumble, Prock found Blake Davis on a 35-yard pass for another touchdown. A missed extra point left Denair on top 13-7.
Summerville tied the game on a TD run, but Denair wasn't done. The Coyotes put together another nice drive that culminated in Brendan Curnow's 1-yard score and a 19-13 lead after the two-point conversion attempt failed.
"Offensively, I thought our skill guys played well," Armas said. "We threw the ball much better. We ran the ball. We caught the ball. We just need to hold onto the ball."
Turnovers led to both of Summerville's second-half scores. The first came after Denair fumbled on its opening possession of the third quarter. A TD run and successful extra point by Summerville gave the Bears a 20-19 lead, which they nursed late into the fourth quarter.
Another Denair fumble set up the winning score, a run by Marquez with a little more than a minute to play. That put Summerville on top 27-19 – meaning a touchdown and two-point conversion could tie the game for Denair.
The Coyotes got the ball on their own 20-yard line and quickly moved past midfield. But out of timeouts and facing a heavy rush, Prock's desperation pass was picked off by Summerville with 30 seconds to go.
"We need to clean up the turnovers and tackle better," Armas said. "We had some alignment issues by our front seven on defense. Typical first-game stuff. We'll fix it."
Junior varsity game: Denair won 21-14
This week: Denair will host Delta (0-1) of Clarksburg, which lost 35-22 to Biggs in its season opener.