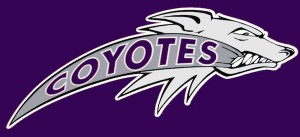 Submitted by Denair High School
The good vibes started on the very first play of the game. Denair's Nicholas Hawkes took a short kickoff from Delta, turned right toward the home team bench and raced 80 yards for a touchdown, igniting the Coyotes and their crowd. By the time the first quarter ended, Denair already had scored five TDs on its way to a surprisingly lopsided 73-6 victory.
Denair's 11 touchdowns came almost every way imaginable. Chase Pritt had his best game ever with three scores, and each was different (55-yard defensive score, 52-yard punt return and 53-yard run). Justin Steeley and Justin Gomes also scored twice apiece, all on runs. Blake Davis returned another interception for yet another TD.
It was the most points the Coyotes (1-1) had scored in anyone's memory.  By comparison, in the entire 2015 season, Denair had 156 points. Friday night, it had nearly half of that total in one game.
"We told the kids after the game that we thought we played well, but not 73 points well," assessed second-year coach Anthony Armas. "There are still some things we need to work on and fix."
One of the things the Coyotes addressed after the first week was protecting the ball. They had the lead in the second half against Summerville, but fumbled twice among their four turnovers for the game. The mistakes led to a 27-19 Denair loss.
The ball security message clearly sank in against Delta (0-2) of Clarksburg.
"We never punted and we never turned it over," said Armas. "I was happy with that."
As good as they were on offense, the Coyotes also played lockdown defense. They led 35-0 after the first quarter and 54-6 at halftime. They dominated in ways rarely seen the past few seasons at Jack Lytton Stadium, holding Delta to minus-1 yard rushing for the game. For most of the second half, there was a running clock – akin to a "mercy rule" in baseball or softball.
"We're real big on not getting complacent after 73 points," Armas said. "We told the guys to enjoy it and then come back ready to practice on Monday."
Denair, which dressed just 15 players for the game, came out of the contest with no significant injuries, Armas reported. The Coyotes – already thin at every position – lost lineman Omar Padilla to knee surgery last week, though he could return late in the season, Armas said.
Junior varsity game: No game
This week: Denair will go on the road to play Brookside Christian (0-2) at Lincoln High School in Stockton. Brookside Christian is coming off a 26-22 home loss to Argonaut. A year ago, Denair beat Brookside 41-12. "They were young last year. They've gotten better. They have a new coach and new offense and some good athletes," Armas said.