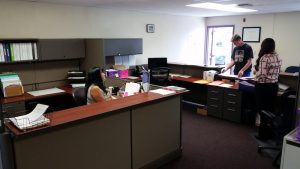 Submitted by Denair Charter Academy
Denair Charter Academy has a new office for Principal Brian LaFountain and his staff. And within the next month, the old office space will be renovated and remodeled into a much-needed student center for the independent study campus.
The shift is the latest domino to fall in a series of moves that began in the summer of 2015 with the relocation of the Denair Unified School District administrative office from a modular building on the east side of Lester Road to a refurbished former classroom just a few short steps across the parking lot. That project included an upgraded meeting space for the district's Board of Trustees.
For many years, the board held its meetings in the building that now is home to the DCA office. Before it was the board room, it was a band practice area. Last year, it was used once again for music instruction. Given its proximity to the DCA classrooms, it made sense to give it a new purpose.
Walls were added to create offices, cubicles for staff, a reception area, meeting spaces and closets. A bathroom is waiting to be plumbed. Though there still are boxes to be unpacked and photos to be hung, everything is humming in the new building.
La Fountain took over as principal in July, so he spent only a few months in the old DCA office. And as much as he enjoys his new accommodations, what really excites him is what's yet to come.
DCA prides itself on providing "personalized education opportunities" for its more than 300 students, but most of them spend only a day or two a week on campus working one-on-one with their teachers. The rest of their education takes place elsewhere. Parents use lesson plans created in tandem with DCA instructors to home school K-8 students; independent study plans are developed for high school students away from campus.
"In independent study, one of the biggest challenges is getting students to come in when they're not required to," LaFountain said.
Part of the solution, he decided, is to give those students a place to call home. Older students, in particular, will be able to meet privately with teachers, complete assignments, access some of the family and social services that DCA offers or simply have an indoor place to wait for transportation.
"It gives them a central space where they can run into each other, see their friends and hang out between classes," LaFountain said.
The remodeled office also will have desks with computers for testing and tutoring as well as an office for DCA's campus supervisor and desks for some of the part-time teachers. Given their schedules, LaFountain said it is unlikely most of those employees will overlap.
"It will be a quiet space for our teachers or a place where they can meet privately with families when necessary," he said. "We're excited about all the ways we'll be able to use it. It's a great addition to our campus."