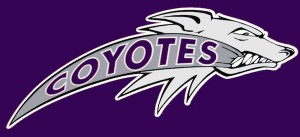 Submitted by Denair High School
In football, bigger, stronger, faster players often have an advantage. It's as true in the Southern League as it is on Sundays in the NFL. Denair knows all too well the difference size can make after its 35-14 loss Friday night to Gustine.
Gustine trotted out 12 players who weigh at least 200 pounds against the Coyotes. That's nearly half the Reds' 26-member team. Four of them tip the scales at 250 pounds or more. They're big boys. Compare that to Denair's 16 players, only one of whom weighs more than 200 (Joe Brasil at 230).
More than anything else, the physical mismatch explains Friday's result in the Southern League opener for both schools.
"Their size was a big issue," admitted Denair Coach Anthony Armas. "They had a big offensive line and that gave us some problems.
Rather than trying to beat blockers straight up, the Coyote defenders shot gaps and tried to use their speed to slow down the Gustine offense. And though it made some good plays, especially in the second half, Denair's defense was gouged for too many big runs and big passes in the first half as Gustine raced to a 28-6 lead.
The teams traded touchdowns in the third quarter, but the early deficit and a few key penalties that negated big plays by the Denair offense were too much to overcome.
"It was just one of those nights. Everything went their way," said Armas, whose team dropped to 2-2 overall. "They were a lot better than we thought, but like I told the kids after the game, 'That team was better than us, but not 35-14 better than us.' "
Junior varsity game: Denair won 22-8. It is 2-0 overall and 1-0 in the Southern League.
This week: The focus shifts to another road game at Le Grand, which is 0-4 this season, including a 21-7 loss to Waterford last week.
"We match up well with LeGrand. We're not going to have the size issues," said Armas.
Last year, LeGrand scored a touchdown in the final two minutes of the game to win 46-40 in Denair. Armas expects Friday's game to be equally close.
"They have a good quarterback and a good receiver. They throw the ball pretty well," he said, adding the next three weeks are big for the Coyotes. After LeGrand comes a home game against Ripon Christian (0-1, 1-3) and another road contest in Newman against Orestimba (1-0, 3-1).
"We've been trying to break the season into mini-seasons," Armas said. "We won non-conference 2-1. And now we need to win the next three games."
The Coyotes could be down to 15 players this week because linebacker and offensive tackle Joseph Ciccarelli likely will be sidelined with an arm injury. Playing short-handed, though, is nothing new for Denair.
"We're a little dinged up, but that's the way it's going to be this week. We've talked about pulling kids up (from the JV team), but we've been rolling with 15 and we're fine," said Armas. "The thing that I like is that our kids are upset when we lose. That's because they expect to win."