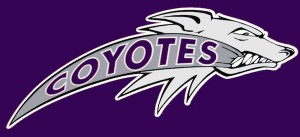 Submitted by Denair High School
Those who underestimate the Denair football team do so at their own peril, as formerly unbeaten Delhi found out the hard way Friday night.
Fueled by a raucous homecoming crowd, the hard running of Justin Steeley and a defense flying all over the field at Jack Lytton Stadium, Denair played arguably its best game of the season. The Coyotes posted their third shutout in four games, winning 14-0 and positioning themselves for what once seemed like an improbable playoff spot with two games remaining.
Despite suiting up just 15 players, Denair dominated the Hawks, forcing seven turnovers on defense and doing just enough on offense with a backup quarterback to make Steeley's two touchdown runs hold up.
As a result, Denair (5-3 overall, 3-2 in the Southern League) is poised to compete for one of the league's berths in the Division VI playoffs. Victories this week at Mariposa (2-3) and at home in the season finale against Waterford (1-4) almost certainly would assure the Coyotes of a playoff game.
"We're not going to shy away from it," said Denair coach Anthony Armas when asked about the postseason. "That's been the goal from the get go. We're really focused on the next two games. …. I have a feeling if we get 7-3, we'd been in, but I don't know how the CIF does it."
Orestimba, which is a Division V school based on its enrollment, leads the Southern League at 5-0. It plays at Delhi (4-1) this week, then finishes against longtime rival Gustine (4-1). Delhi has Orestimba, then plays at Ripon Christian (1-4).
Depending upon who beats who, Denair could finish anywhere from tied for first place to fifth. What Armas does know is the Coyotes control their own destiny.
If they play as well against Mariposa and Waterford as they did against Delhi, the playoffs will be a fitting reward.
"Our defense was lights out," Armas praised. "It was a really good team effort."
The closest Delhi came to scoring was a missed field goal in the first quarter. The rest of the game, the Coyotes bottled up the Hawks' misdirection offense, frustrating them with five interceptions and two fumble recoveries.
It was the third shutout of the season for Denair. In their five victories, the Coyotes have allowed just 12 points.
On offense, with regular quarterback Kyle Prock sidelined with a knee injury, Dylan Mann – normally the starting tight end — ably filled in with just a week of practice. He leaned on Denair's trio of talented backs – Steeley, Brendan Curnow and Chase Pritt – to provide the spark.
Steeley tormented Delhi most of the game. He scored the only points in the first half, breaking multiple tackles on a 75-yard run that gave Denair a 6-0 lead. Then in the third quarter, he capped a nice drive by eluding more Delhi defenders and breaking more tackles on a 13-yard romp to the end zone. He also scored the two-point conversion to make it 14-0.
By the end of the night, Armas said his players knew they had accomplished something special.
"Our kids were pretty excited," he said. "It was homecoming, so we had biggest crowd of the year. It was a big deal. They were undefeated. Our guys really wanted this one."
And how did Armas celebrate? By going to Disneyland to meet his family after an hour of sleep. He figures he got to bed about 3:30 a.m., then caught a ride to the Sacramento airport from a friend. Saturday afternoon, he was still excited talking about the latest victory from the "Happiest Place on Earth."
"I met my brother and his family, and my mom and her husband," Armas said. "We came for Christmas last year and we talked about wanting to see it during Halloween. It's been a lot of fun."
Not nearly as much fun as Denair will have with two more victories.
Junior varsity game: Unbeaten Denair won 48-6 The first-place Coyotes are 6-0 overall and 5-0 in league play.
This week: Denair takes a 90-minute bus ride to Mariposa, annually one of the toughest places for any Southern League team to play. "I haven't got to watch films yet. I plan on doing it tonight at the hotel room," Armas said. "Probably our two worst games of the year were on the road (losses to Gustine and Orestimba). We're still trying to figure it out. … To us, they're Mariposa and it's a big deal."