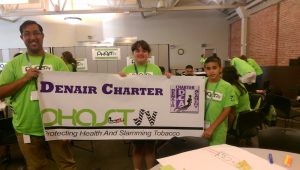 Submitted by Denair Charter Academy
Name: Carlos Mendoza
Family: I come from a family of six and I'm the youngest of four siblings.
School: Denair Charter Academy
Subject taught: All subjects with a focus on math.
Experience and education: I have worked in Denair Unified School District for about five years. I have a bachelor of arts degree in psychology.
What most inspires you about working in Denair Charter Academy? What inspires me most is seeing how much a student can grow with their teacher and the comradery between all the staff members.
What are your biggest challenges as a classified staff member? As a classified staff member, I have the ability to help any who are in need of assistance. Even though I want to help everyone, sadly I am not able to be in more than one place.
What is your favorite support tool or activity? My favorite support tool/activity to do with students are giving the students positive reinforcement and reassurance in their capabilities. Those are a few of the tools I've learned from the Positive Behavior Intervention and Support (PBIS) program, which is why I am looking forward to continue use of PBIS in the years to come.
What do you want your students to remember? I want my students to remember that they are capable of achieving anything their heart desires — all they have to do is try. Life may not always go as one plans, but we have to learn how to roll with the punches. And if the path they are walking on is too difficult, then they have two options. One is to keep pushing forward and the path will eventually get better; or select a new path to walk on from the millions of paths that are out there. I want nothing but the best for my students and I don't their failures to hold them back. I want their failures to give them the wisdom to grow into their full potential and push them forward; like Victor Kiam once said, "Even if you fall on your face, you're still moving forward."
How can parents support what you do? Parents can support what I do by supporting their own children, since most of the learning will happen at home. Being an advocate for their child is one of the greatest examples of support a parent can provide.
What will it take to improve academic success in DUSD schools? There are many who take part in the academic success of students, but ultimately it falls on the students to want to succeed. With that being said, we as employees of DUSD are here to help each student to succeed and we will continue to do everything in our power to ensure their success.
What's next in the office? Well, the office has moved locations and the old office building will be transformed into the Student Resource Center, which is where I'll be stationed. This will allow me to assist more students than before and give the students an opportunity to meet other students, since they only come to our school once a week.
What would surprise people about your job? They would be surprised by how each day is never the same and there is never a dull moment. Not only do I support students, but I also support the teachers at my site, the office staff and once in a while I'll be supporting someone at a different site. I need to be flexible and ready to go at a moments notice.
What do you do for fun? I love spending time with family and friends. When I'm on my own, I like to play video games and watch Netflix; and once in a while I enjoy baking and dancing.