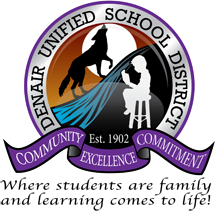 Submitted by Denair Unified School District
Additional academic assistance, enhanced college preparation and tangible ways to improve study skills among high school and middle school students were approved Thursday night by the Denair Unified School District board.
Trustees voted 5-0 to accept two $75,000 College Readiness Block Grants from the state – one each for Denair High School and Denair Charter Academy.
Board members also unanimously adopted a proposal to immediately add nine additional staff collaboration opportunities at Denair Middle School. The impact will mean shorter days for students every Friday beginning March 3.
The block grants at DHS and DCA are part of $200 million in state funding directed at high schools to better prepare students for college. The goal is to increase the number of students who enroll in traditional or vocational colleges and complete their undergraduate degrees within four years.
At Denair High, Principal Kara Backman told board members that the majority of the money will be used to implement AVID, or Advancement Via Individual Determination. AVID is a research-based system used nationwide to provide teachers "with training and methodologies that develop students' critical thinking, literacy and math skills across all content areas," according to its website.
All teachers will undergo five days of training before the next school year, Backman said. Most importantly, AVID will be the basis for a new requirement for next year's freshman class to teach study skills to all students. The goal is to enable them to better prepare for Advanced Placement and other college-prep courses, Backman said. Next year's sophomores also will be able to enroll voluntarily to sharpen their skills, she said.
A piece of the state grant also will pay for a computerized testing program intended to better identify students' weaknesses and allow educators to provide targeted intervention more quickly, Backman explained.
In addition, also beginning with next fall's freshmen, a third year of math will be required to graduate. That will increase the number of units needed to graduate to 240 from 230 for members of the Class of 2021.
At DCA, where high school students are on an independent study program, the $75,000 state grant will help expand the number of online college-prep classes available to students, pay for intervention assessments and provide additional credit recovery options for students who fall behind graduation requirements.
The goal, said Principal Brian LaFountain, is to engage students in their individual learning styles so they can acquire "21st-century skills as they pursue higher education or career technical pathways." Not all DCA graduates end up at four-year colleges, he explained, but many do attend vocational schools as they pursue their careers.
At Denair Middle School, trustees signed off on two important changes proposed by Principal Kelly Beard.
One will implement minimum days on Fridays starting in March to allow teachers to collaborate, discuss classroom strategies and better integrate what they do across multiple subjects. It more than doubles the number of days dedicated to those tasks on the original school calendar. It mirrors what is done at Denair Elementary Charter Academy.
"We think it will be a very positive thing for our teachers and, ultimately, our students," Beard said.
Beginning March 3, school will let out at 12:35 p.m. on Fridays. Notices will be sent to parents so they can plan ahead.
Beard assured trustees that students still will meet all state requirements for days and hours in class.
The second change at DMS adds an intervention and enrichment period as part of the traditional seven-period school day next school year.
"This is a biggie for us. This was the No. 1 need identified by the staff," Beard explained.
Similar to the computerized assessments being implemented at the high school next door, middle school students will be tested quarterly. Those who need extra help in reading (sixth grade) and literature (seventh and eighth grades), math, science and social studies/history will receive additional, targeted instruction to get them back on track.
Beard said students who don't need extra help will be able to choose from non-academic electives such as music, technology and computers, and perhaps even golf and fishing.