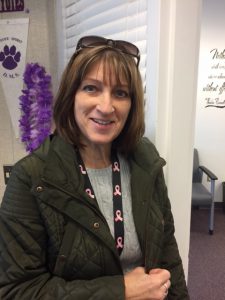 Submitted by Denair Middle School
Name:  Melissa Oei
Family: Husband, Bob; sons, Paul and Jonathan
School: Denair Middle School
Position: Campus Supervisor
Experience/education: This will be my 11th year with Denair Unified School District.  I was raised in England and went to Windsor and Maidenhead College of further education followed by Reading University.  Although my background is in banking and accounting, I love my job here as the campus supervisor.  I am able to be out and about around our campus. Although my primary duties are safety and discipline, I am lucky enough to be able to see some of the great things going on in the classrooms.
What most inspires you about working at Denair Middle School? These are the transition grades/years for students. The students are no longer the "little kids" in elementary school and they are not yet the "big kids" at high school.  These are the introductory years to more intense studies, new school sports and sometimes changes within their social groups. I love being a part of this transition period where I can be a part of a staff /team who are helping students to grow, become more confident and be ready for their next adventure!
What are your biggest challenges as a classified staff member? I think that sometimes the classified staff is somewhat overlooked. Although they are often behind the scenes, they are an integral part of our school's success.
What is your favorite activity/event at DMS ? I love all of the sporting events we have here, where our students and parents come together and have a fun time!
What do you want your students to remember? That there are always two sides to a story, never listen to gossip, and always have compassion and respect for others.
How can parents support what you do? Everyday ask your child "how was your day?" Communicate with the office any worries or concerns that they may have about their child's day.  Be especially aware of the ever-changing social media sites and check what their child is doing on those social media sites.  Remind their child/children to please follow the outside safety rules by using the crosswalks and only using the drop off/pick up zones for getting in and out of vehicles.  Safety first!
What will it take to improve DUSD schools? Everybody coming together and working as a team
What do you see in the future for DMS? DMS is a great campus with some excellent facilities.  The teachers and classified staff are working together to organize new clubs and student activities. As we enroll more students and our numbers grow, I can see the expansion of our sports programs, educational field trips and clubs.
What would surprise people about your job? How little I sit down, according to my Fitbit most days I walk over 13,000 steps!
What do you do for fun?  I love to hang out with my family.  We are a 'Soccer family', both of my sons played competitive soccer, which my husband coached, and Paul currently plays for the professional indoor team 'Turlock Express'.  We love to travel especially to England to spend time with my family but we also do love Puerto Vallarta, Mexico.  Formula 1 motor racing is a must for me and I also love photography and yard sales!