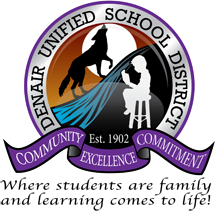 Submitted by Denair Unified School District
Denair Unified School District trustees Thursday night enthusiastically approved the introduction of a sweeping assessment program for all grade levels that will provide greater clarity about students' strengths and weaknesses.
Trustees heard a presentation by principals Kara Principal of Denair Charter Academy, Kelly Beard of Denair Middle School and Brian LaFountain of Denair Charter Academy in support of a program called Measures of Academic Progress, or MAP.
MAP measures student growth over time in English, math and science via computerized achievement assessments. Backman said MAP assessments provide detailed, actionable data about where each child is on his or her unique learning path.
"It allows teachers to identify areas of deficiency and proficiency and accelerate learning through both of those areas. It identifies where students are ready to learn," she said.
Backman said MAP assessments differ from other data sources to inform instruction by being nationally normed, by tracking student progress throughout a year and across school years, and by being linked to software tools that can assist teachers and administrators in planning instruction.
"The whole idea is to provide real-time data that allows us to make course corrections now, not in May when state tests scores are released," Superintendent Aaron Rosander said. "Our teachers need this data. We're trying to better understand our students so we can better target our instruction."
The tests are available in English and Spanish. LaFountain said the exams are adaptive – meaning they get harder as students provide more correct answers and slightly easier for those struggling. Teachers can follow the results in real time. Students at all grade levels will take the tests three times a year.
Color-coded reports are generated that can be shared between teachers, parents, administrators and students.
The cost is about $14,000, plus two days of training for administrators, testing coordinators and teachers at all four campuses.
Trustees also approved two personnel moves involving administrators Thursday night.
The first involved a change of title for Amanda Silva, who has served this year as the coordinator of special education. Trustees ratified a title change for Silva to assistant director of special education.
The board also accepted the resignation of Denair Elementary Charter Academy Principal Lucy Zamora, effective at the end of the school year. No explanation was offered in public; Zamora did not attend the meeting. An experienced bilingual educator, Zamora came to DECA at the beginning of the school year after 11 years in the Patterson Unified School District.
Rosander stressed that Silva's job title change does not constitute a new administrative position. Instead, the new position replaces the vacant senior director of student support services.
"The bottom line is that we will maintain the same number of administrators in a new configuration, with some minor future tweaking, that emphasizes much greater focus on special education services," Rosander wrote in a note to all employees. "Best news of all, this new position and reorganization comes at no additional cost to the district, and actually saves money this year."
He said Silva's duty will include responsibility for the general management and oversight of special education district-wide. She also will represent DUSD locally and at the state level, facilitate training for teachers and paraprofessionals, provide and coordinate legal and regulatory updating, and assist staff across the district, Rosander said.
In other action, trustees approved:
Financial incentives for staff members who let the district know by April 28 if they intend to retire. The bonuses are $10,000 for teachers and certificated staff, and $2,000 for classified employees. Unions representing all employees also must ratify the incentives.
A three-year contract extension for Chief Business Officer Linda Covello through June 30, 2020. She will earn 103,149 in 2017-18, $106,759 in 2018-19 and $110,946 in 2019-20. Those salaries reflect the same 3% wage reductions shared by all employees.
The 2017-18 school year calendar. Classes will begin Thursday, Aug. 10. Winter break will be Dec. 16 to Jan. 1, and spring break March 30 to April 8. High school graduation will be Friday, May 25.
$75,000 in hardware and system upgrades to the two DECA computer labs. State money the district set aside will be used to pay for the improvements. The labs are used regularly by all students, including when they take state-mandated tests.
The introduction of the Advancement Via Individual Determination system, or AVID, for eighth-graders at Denair Middle School. Trustees previously had approved AVID for freshmen at the high school. AVID is used by more than 60,000 teachers nationally to help train them to better prepare students for success in high school, college, and a career, especially students traditionally underrepresented in higher education.
Three new classes at Denair High School – RTI intervention to provide intense instruction to struggling students, jazz band and ag leadership.
Overnight trips for high school students involved in FFA livestock judging April 14-15 to Chico, April 28-29 in Atascadero and May 5-7 in San Luis Obispo. Also approved was participation in the USA Cheer Camp July 10-12 in Sacramento.
A five-week summer school schedule May 30 to June 17. DCA will provide online college-prep classes intended to help students catch up on credits they didn't earn in the regular school year. In addition, non-college prep classes in English, math, social science, science and electives will be offered, also at DCA. At DECA, there will be special intervention classes for kindergarten through eighth-grade students for whom English is not their first language. Breakfast and lunch will be available for all students.
A construction contract with Highlands Energy Solutions to improve energy efficiency across the district, primarily by installing upgraded interior and exterior lighting. It will be paid for by a $350,000 grant the district received.
Trustees also recognized four middle school students. Three eighth-graders in Gina Michaels' history class – Lauren Fant (grand prize, $250 award), Amy Schmit (1st place, $150) and Kayli Wilson (3rd place, $50) – were honored by the North Valley Constitution Project. They wrote essays on the Fourth Amendment (unreasonable search and seizure). Seventh-grader Charles Dunham-Filson also was celebrated for his selection to the Stanislaus County Honor Band. He is the first chair percussionist.