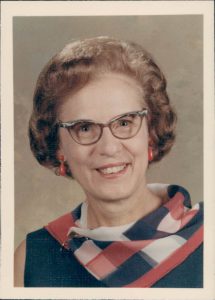 Submitted by Denair High School
Longtime Denair High School teacher and community resident Billie Berniece Black died April 18. She had just marked her 101st birthday on March 29.
Miss Black was born in Oklahoma and also lived in Missouri before moving with her family to Denair in 1929. She lived in the Denair and Turlock area for the rest of her life.
She graduated from Denair High in 1933, then attended Modesto Junior College and Biola University, where she earned a BA degree in Christian education.
Miss Black worked at Turlock Lumber Co. as a secretary and bookkeeper until the beginning of World War II, when she transferred to the Government Evacuation Hospital in Modesto for wounded soldiers.
When the war was over, she earned a master's degree and secondary teaching credential from the University of California at Berkeley. She then joined the staff at Denair High School and taught history and business there for 36 years, retiring in 1976.
She was a member of the Denair Missionary Church for 50 years before joining the Turlock Evangelical Free Church in Turlock.
She is survived by one niece, Dr. Deanna Sharpe of Missouri; one grand-niece, Pam Domecq of Sacramento; and one grand-nephew, Allen Domecq of Modesto.
A graveside service will be held at 11 a.m. Saturday, April 29 at Denair Cemetery.