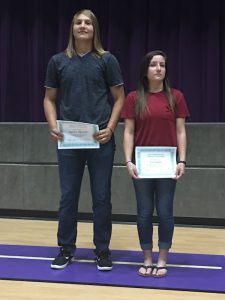 Submitted by Denair High School
There were smiles, even a few tears, and plenty of hugs and applause Friday night at the Coyote Center as Denair High School honored its top students.
Nearly $16,000 in combined scholarships were announced, money that will be important as the members of the Class of 2017 continue their educations in college.
Eva Varni earned the most in scholarships ($3,150), followed by Kyle Prock ($2,250). Varni also was presented with the Principal's Leadership Award.
Hector Obando will be the valedictorian at the May 26 graduation ceremony based on his 4.17 grade-point average. He also earned recognition from the California Department of Education's Mathematics Council.
Elisabeth Martinez was just behind Obando in GPA (4.15) and will be the salutatorian during graduation.
In the lower grades, junior Daisy Lopez (4.15), sophomore Reyna Villa (4.13) and freshman Fernando Silva (4.12) earned the highest GPAs.
Senior Trevor Lovelace was recognized for perfect attendance during his entire scholastic career – kindergarten through 12th grade.
All scholarships, listed by student:
Christina Abebe: $500 from Kiwanis of Greater Turlock Ron Jesse Scholarship, $300 from Denair Sports Boosters, $125 from Sigma Omega Phi
Victoria Adler: $500 from the Denair Education Foundation
Joe Brasil: $250 from Denair Farm and Family, $100 from Denair Youth Football
Ileah Brantley: $500 from Key Club
Jared Carbajal: $250 from Denair Farm and Family, $100 from Denair Sports Boosters, $200 from the Mark Selee Memorial
Joseph Ciccarelli: $200 from Denair Youth Football
Brendan Curnow: $300 from Denair Sports Boosters, $250 from Denair Farm and Family, $100 from Denair Youth Football
Kayla Fant: $500 from DUTA Roberta Prescott Scholarship, $250 from Denair Farm and Family
Cristal Fuentes: $250 from Denair Farm and Family
Jaileen Gazcon: $250 from Denair Farm and Family
Justin Gomes: $500 from Denair Volunteer Fire Department
Carson Haringa: $300 from Denair Sports Boosters
Hector Jimenez: $100 from Denair Sports Boosters
Trevor Lovelace: $500 from Kiwanis of Greater Turlock Ron Jesse Scholarship, $300 from Denair Sports Boosters
Elisabeth Martinez: $500 from Denair Education Foundation, $500 from Denair Sports Boosters, $250 from Denair Farm and Family, $200 from Denair Youth Football
Nicole Nichols: $250 from Denair Farm and Family
Hector Obando: $500 from DUTA Roberta Prescott Scholarship, $500 from Denair Sports Boosters, $200 from Denair Youth Football
Kyle Prock: $1,000 from Hilmar Cheese Co., $500 from Stanislaus-San Joaquin Cattlewomen, $300 from Denair Sports Boosters, $250 from Denair Farm and Family, $200 from Denair Youth Football
Zachary Ramaley: $350 from Stanislaus County Office of Education, $250 from Denair Farm and Family
Sierra Smith: $250 from Denair Farm and Family
Seth Snider: $250 from Denair Farm and Family, $200 from Denair Youth Football
Eva Varni: $1,000 Denair Lions Club Tom Dougherty Scholarship, $500 from Denair Education Foundation, $500 from Denair Sports Boosters, $250 from Denair Farm and Family, $500 from Denair Volunteer Fire Department, $300 from the Mark Selee Memorial, $100 from Denair Youth Football
Other honors given to seniors included:
California Scholastic Federation Life members: Ileah Brantley, Jailed Gazcon, Nicole Nichols
Stanislaus County Multilingual Proficiency Seal: Yareli Coria, Cesar Flores, Jesus Flores, Alondra Montanez, Jesus Perez, Angela Verduzco, Reyna Villa, Brigg Wenstrand
Departmental awards went to students at any grade level to recognize grades, attendance, contributions in class and behavior. Those winners were:
Advanced Ag Mechanics: Cyler Climer, Justin Short
Ag Leadership: Bryson Prock, Danielle Tigner, Chenoa Urchison, Eva Varni
Ag Welding: Blake Davis, Bryson Prock
Animal Science: Carson Haringa, Kyle Prock
Intro to Agriculture: Jhahayra Guillen, Alex Sanders
Intro to Ag Mechanics: Blain Cole, Vlad Shyyan
Ag Earth Science: Logan Pierce, Derek Starkey
Ag Biology: Jessica Aguilar, Diana Soto
Floral Design 1: Kelsey Park, Justin Short
Floral Design 2: Nicole Nichols
English 9: Alyssa Bedari, Jesus Flores
English 10: Fernanda Carranza, Alyce Silva, Danielle Tigner, Reyna Villa
Pre AP English 10: Kirsten Fletcher, Alondra Sandoval
English 11: Yareli Coria, Alexis Flores
English 11B: James Gonzales
English 12: Morgan Pombo, Jasmine Vasquez
AP Literature: Hollie Collins, Libby Martinez
Art 1: Alba Licea, Reyna Villa
Art 2: Franchesca Aziz, Rachel Gomes, Brianna Mitchell
Art 3: Irving Chavarria, Abigail McDougall
AP Art: Kayla Fant, Libby Martinez
Art Design: Josue Fierros Avila, Matt Storms
Band: Alexis Brantley, Alondra Montanez
Drama: Kloie Lum, Alexis Ward
Criminal Law: Morgan Pombo, Jasmine Vasquez
CSI: Alicia Acosta, Reyna Villa
Intro to Administration of Justice: Alexis Climer, Alexandria Sanders
Patrol Procedures: Hannah Bragdon, Drew Pritchard
Math 1A: Condido Flores
Math 1: Logan Pierce, Brigg Wenstrand
Math 2: Drew Pritchard, Alondra Sandoval
AP Statistics: Christina Abebe, Jasmine Vasquez
Trigonometry/Pre-Calculus: Alex Flores, Alex Sanders
Algebra 2: Abigail McDougall, Victor Walle
Algebra 10B: Austin MacGregor
Health/Freshman Advisory: Carlo Morales, Logan Pierce
Yearbook: Ileah Brantley, Madison Snider
Leadership: Alexis Brantley , Hollie Collins
Learning Skills: Danielle Tigner
PE: James Gonzales, Elizabeth Haines, Jonathan Ibarra, Abigail Martinez
Weights/Fitness: Franchesca Aziz, Joe Gallardo
Anatomy/Physiology: Janet Garcia, Daisy Lopez
Chemistry: Alex Sanders, Reyna Villa
Biology: Hannah Bragdon, Kirsten Fletcher
Earth Science B: Austin MacGregor
S. History: Blake Davis, Natalie Rosander
World History-: Franchesca Aziz, Kirsten Fletcher, Ryan Haringa, Austin MacGregor, Analdo Moreno
World History B: Daniel Jaramillo
Civics: Jaileen Gazcon, Robert Williams
Ecomonics: Hector Obando, Morgan Pombo
Civics/Econonics: Alexis Brantley, Zach Ramaley
AP Spanish: Fernando Silva, Reyna Villa
English Language Development: Wendy Alvarado, Sandra Carranza
Spanish 1: Jhahayra Guillen, Abigail Martinez
Spanish 2: Natalie Farias, Jenna Nascimiento
Spanish 3: Daisy Lopez, Robert Williams
Superintendent's Honor Roll  (4.0 GPA or higher)
Christina Abebe
Franchesca Aziz
James Beck
Alyssa Bedari
Hannah Bragdon
Ileah Brantley
Hollie Collins
Yareli Coria
Blake Davis
Litzy De La Cruz
Kayla Fant
Kirsten Fletcher
Alexis Flores
Jesus Flores
Joey Freitas
Cristal Fuentes
Jaileen Gazcon
Rachel Gomes
Brittany Gouveia
Carson Haringa
Ryan Haringa
Madisyn Herren
Hector Jimenez
Hannah Knox
Brieanna Lema
Jacob Lewellen
Daisy Lopez
Trevor Lovelace
Elisabeth Martinez
Abigail McDougall
Carlo Morales
Natalie Morales
Analdo Moreno
Christian Obando
Hector Obando
Kelsey Park
Logan Pierce
Morgan Pombo
Drew Pritchard
Kyle Prock
Jennifer Ramos
Natalie Rosander
Alexandria Sanders
Alondra Sandoval
Alyce Silva
Fernando Silva
Madison Snider
Eva Varni
Jasmine Vasquez
Reyna Villa
Brigg Wenstrand
Robert Williams
Principal's Honor Roll (3.5-3.9 GPA)
Alicia Acosta
Michelle Bernal
Alexis Brantley
Joe Brasil
Jarred Carbajal
Alexis Climer
Brenden Curnow
Alejandro De La Cruz
Madison DeHart
Emilee Fanning
Josue Fierros Avila
Janet Garcia
Justin Gomes
Emily Goodman
Gisela Guillen Camargo
Katie Hernandez
Kylie Herren
Trenton Hulbert
Jonathan Ibarra
Madison Keas
Madilynn Lema
Austin MacGregor
Crystal Mancilla
Alondra Montanez
Jenna Nascimento
Nicole Nichols
Hailee Padgett
Brianna Perez
Sandra Perez
Chase Pritt
Bryson Prock
Courtney Prock
Zachary Ramaley
Samantha Ramirez
Yesenia Revuelta
Justin Short
Seth Snider
Adrianna Snyder
Derek Starkey
Bryanna Suarez
Madison Vann
Emma Webster
Steffin Winston
Madison Womack
Honor Roll (3.0-3.4 GPA)
Victoria Adler
Wendy Alvarado
Jackeline Arrieta
Yesenia Barrera
Samantha Belcher
Kolbie Branagh
Urbano Cardenas
Roxanna Chavez
Zackary Cherry
Natalie Coria
Liliana De La Cruz
Levi Edgin
Karla Enriquez
Natalie Farias
Nicole Farias
Logan Gomes
Rachel Guevara
Jhahayra Guillen
Hayden Haile
Robert Henderson
William Knox
Alba Licea
Kloie Lum
Gabriel Maldonado
Abigail Martinez
Seth Martinez
Brianna Mitchell
Ana Moreno
Corben Morrison
Nicole Mundello
Mercedes Murray
Chloe Padgett
Alexis Omar Padilla
JoseAntonio Padilla
Aaron Wyatt Parker
Naomi Perez
Yuritzy Perez
McKenna Potter
Kortney Rebiejo
Angelo Retana
Fiorella Retana
Cierra Rodriguez
Chelsey Sifuentes
Dylan Silva
Erica Smith
Sierra Smith
Diana Soto
Cheyenne Souza
Matthew Storms
Jennifer Tachiquin
Danielle Tigner
Austin Upfold
Brenda Valdovinos
Abigail Vasquez
Angela Verduzco
Eric Villa
Victor Walle
Jorge Yanez
Perfect Attendance
James Beck
Alyssa Bedari
Joe Brasil
Ulisses Corrales
Yael Fierros Avila
Trevor Lovelace
Jasmine Vasquez