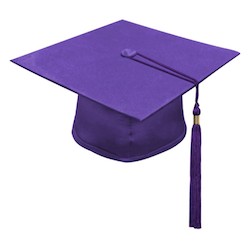 Submitted by Denair High School
The 70 graduates of the Denair High School Class of 2017 received their diplomas Friday night in front of friends, family and community members at Jack Lytton Stadium. The ceremony featured remarks by Superintendent Aaron Rosander, Principal Kara Backman, valedictorian Hector Obando and salutatorian Libby Martinez. School board members were on hand to present diplomas to the students.
Here are what the student speakers had to say:
Hector Obando, valedictorian (4.17 grade-point average)
Thank you for joining us at Jack W. Lytton stadium for Denair High's very own graduating class of 2017.
It comes with great respect and privilege to be here today. Watching all of the people I have grown up with become young adults has gone by too fast. We are on the verge of adulthood! But first, to become an adult we have to strive towards goals our role models have set for us. Therefore we should congratulate not only ourselves, but our role models which includes parents, teachers, coaches, guardians, extended family, friends and anyone else who has imprinted on our lives.
As we become adults, we too are going to be role models. Now, I am not saying to act perfect because nobody can ask that. Just remember, as you continue your trail of life, do not go unnoticed. There's always someone watching whether they are older or younger than you are, and it is never wrong to make a difference in their life.
I know that I have not been here as long as some of my fellow graduates. I started my freshman year, but this moment today will bring joyous cheer and also a teary-eyed sunshine. I will miss my family that I call the graduating class of 2017.
I still remember vividly how complete I felt when I joined the Coyote family. From my very first football game as I played in purple and white to our last game of this year as a Coyote playing baseball, I could not explain to you in words how much pride I have for Denair. I've fallen in love with our community and the friendly faces I see around town supporting our school. I know that I will teach my future family what this community has given me these past four years and the three that I spent playing youth football. They taught me what the word "home" really means.
If some of you are trying to see out of the tears that are stuck in your eyes, just listen because I won't be able to hold back my emotions. As my grandfather Rodrigo once told me, "Hector, don't cry 'mi chelito.' You should be celebrating. Because when the end comes, you have to cherish what you got out of it. Not worry about it stopping. When people pass away, you celebrate what they have done in their place in the world. But when people are born they cry not because life is difficult, but because they are in cheer of a new legacy."
Graduating class of 2017 and everyone who joins us tonight: Sometimes, life goes by too fast. This is one of those fast moments. Look around you. Cherish this moment. Nobody can take this memory from you. Join me, join me in happiness, join me to wherever you may be going whether it be a job or a university a college or trade school, join me as we set ourselves on the rest of our journey of life.
As we are the Coyote family, we will never forget where we come from. Denair has been home to me for my high school career. It will forever be in our hearts as the community in which we've grown up. As the graduating Coyotes push towards the next step in life, we will always bleed purple and white.
Elisabeth "Libby" Martinez, salutatorian (4.15 GPA):
Graduates of 2017, we did it. We aren't sure how, but we did it. We have made it to the end of senior year and are going on to college and starting the rest of our lives.
I remember being a freshman, starting high school and already wanting to be done with it. And now being a senior, I realize just how quickly our last four years together have passed. In reality though, it has been more than four years together. We have all been together since kindergarten, well most of us, and went through all the awkward phases of elementary and middle school together.
And if there was one word to describe our graduating class it would be "together." Because even though we are all going to college and might not see each other every day anymore, we will always be together.
Every weird teacher, football game, lunch activity — didn't matter what it was, we were always together. Supporting one another, or participating in whatever stupid prank our friends were about to pull. We will always be together, and I wouldn't want any other group of weird and wonderful people graduating with me. So congratulations Class of 2017, we did it. We don't know how, but we did.