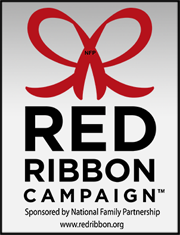 Submitted by Denair Unified School District
Next week is Red Ribbon Week at schools across the country. Red Ribbon Week began in 1980 as a way to discourage drug use among children while promoting healthy behaviors. Former First Lady Nancy Reagan was one of the original proponents.
The campuses in the Denair Unified School District have a number events planned starting Monday. All are being coordinated by staff as well as student members of the PHAST (Protecting Health and Slamming Tobacco) Clubs.
Denair High School
Monday: Crash scene. There will be a wrecked car on the grass near the student store unveiled about 8:40 a.m. The car will be an example of what can happen if people drink and drive, text and drive or are under the influence of drugs and drive. The car will be there all week as a reminder to students. A video was shared with students Friday to prepare them for what they will see Monday. During lunch, we will have games, music and prizes.
Tuesday: Drug dog demonstration, games, music and prizes.
Wednesday: California Highway Patrol presentation, games, music and prizes.
Thursday: Hollywood-themed photo booth, games, music and prizes.
Friday: Denair Fire Department presentation, games, music and prizes.
Denair Middle School
Monday: PJ Day. Students can wear pajamas to school. The theme is "Reach for Your Dreams, Don't Let Drugs Get in Your Way."
Tuesday: Celebrity Day. Students can dress up as their favorite celebrity. The theme is "Be Famous for Making the Right Choices."
Wednesday: Twin/Pink Day. In recognition of Breast Cancer Awareness and Red Ribbon Week, we will join together as twins and wear pink as much pink as possible. The theme is "Join Together Against Drugs."
Thursday: Character Day. Students can dress up as their favorite character — sports hero, Disney character or cartoon character. "Show Your Character, Stand Up Against Drugs!"
Friday: Harvest Festival. Students in each grade will wear different colored clothes – sixth (orange), seventh (yellow) and eighth (white). The theme is "Harvest Your Best Qualities, Don't Fall for Drugs."
Denair Elementary Charter Academy
Monday: Students will show their Coyote spirit by wearing purple or any kind of DECA clothing. The theme is "These Paws Don't Touch Drugs!"
Tuesday: Students will wear sports-related clothing. The theme is "Let's Team Up Against Drugs!"
Wednesday: Youngsters are encouraged to dress up to match a friend. The theme is "Friends Don't Let Friends do Drugs!"
Thursday: Students will wear crazy, mismatched socks and wild hair-dos. The theme is "We Are Crazy About Being Drug-Free!"
Friday: Students can wear pajamas to school. The theme is "Put Drugs to Sleep!"