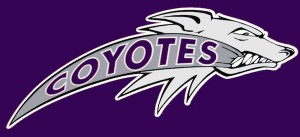 Submitted by Denair High School
Self-inflicted wounds sometimes hurt the worst. Just ask the Denair Coyotes football team.
Denair ripped off three long touchdown runs against rival Delhi on Friday night, only to have one of them wiped out by a penalty. The Coyotes also self-destructed with a couple of costly turnovers deep in their own territory and a slew of ill-timed penalties.
The result was a disappointing 28-14 Southern League loss to the Hawks.
After back-to-back losses against better and more physical teams (Ripon Christian and Orestimba), Denair Coach Anthony Armas anticipated a more even matchup against Delhi. What he didn't expect was his team to lose its focus.
"We just shot ourselves in the foot at the wrong times," he said. "We dropped some balls we should have caught. We threw some balls into the ground we should have completed. And the penalties just killed us.
"It was just mistakes all across the board."
Armas recognizes he has a young team, with just five seniors among his 23 players. But he also knows that eight games into a 10-game season, it's not simply a lack of experience holding his team back. Understanding how to control their emotions and play with poise is part of learning how to win.
"Our goal is to make this program better by doing it the right way," he said. "We're trying to make sure guys are dialed in and learning. That's the big emphasis. To fix it."
The Coyotes (2-6 overall, 1-4 in SL) started well against Delhi (3-5, 1-4).
With about 7 minutes left in the first quarter and back up on their own 3-yard line, Steffin Winston took advantage of the aggressive Hawks defense, which was crowding the line of scrimmage hoping for a safety. Instead, Winston took a handoff from Drew Pritchard on a trap play, hit the hole hard and found himself in the clear for a 97-yard sprint to the end zone.
Denair had little time to enjoy its lead.
Two plays after the kickoff, Delhi answered with a long run of its own to tie the score.
The Hawks added another TD on a 4-yard pass in the second quarter to take a 14-7 lead.
Denair responded with another long touchdown run. This time, Hunter Musgrave hit a quick play and romped 73 yards to pay dirt. The extra point tied it at halftime, but Armas still was frustrated by what might have been.
Earlier in the second period, Denair's Dylan Silva had an 85-yard TD run called back because of a holding penalty.
"Looking at the film, it was complete unnecessary," Armas said of the penalty. "He was already gone."
Yellow flags littered the field in the third quarter, with the officials interrupting the flow of the game by calling multiple infractions on both teams.
It was still 14-14 heading into the fourth quarter.
At one point, Delhi tried a fake punt – which Denair's defense sniffed out and stopped. But a facemask penalty on the Coyotes kept the drive alive. The Hawks punched it in for the go-ahead score, then added another after a Denair interception.
"The interception was my fault," admitted Armas. "I told Drew to let it rip and they had a guy right there."
Junior varsity game: Denair 21, Delhi 0. The Coyotes are 2-2 in league play and 3-3 overall.
This week: Denair is home against Mariposa on Friday. Kickoff is at 7:30 p.m. at Jack Lytton Stadium. Mariposa (3-5, 2-4) has to win its final two games and hope Ripon Christian (2-3) stumbles to have any chance of making the playoffs. "They're good. They're coached well," Armas said. "They're going to try to spread us out on and throw the ball. And on defense, they'll put eight or nine guys in the box and dare us to throw, just like everybody else."