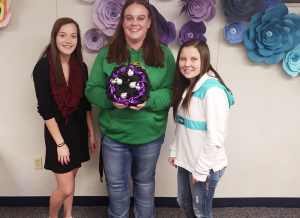 Submitted by Denair High School
The offices of the principals and other administrators in the Denair Unified School District are more festive than ever this holiday season thanks to the students in the high school floral design class.
Last week, teacher Taylor Doo paired up her students with top officials in the district. Their assignment? Have the teens show off the skills they've learned this fall by leading the adults in a collaborative wreath-building exercise.
"I believe that the true level of mastery is when you can teach someone else your craft, skill, or trade," explained Doo. "At some point in their career, they will have to teach others what they know. This is one way for the students to prepare for that. Also, I just thought how cool would it be for the roles to be reversed. Students think so highly of their teachers, but they also forget we are human, too. We are learners, too. We have the same struggles with gaining a new skill as they do."
The fun project required each team to come up with a clever name that described the theme behind their wreaths, which began as rounded 8-inch metal frames. So were born the "Christmas Angels," the "Ornaments," the "Doo Crew," the "Presents," the "Snowflakes" and the "Reindeer."
Students Courtney Frazier and Alexis Climer partnered with Principal Kelly Beard of Denair Elementary Charter Academy. They dubbed themselves the "Nightmare Before Christmas."
Their wreath sported black and purple ribbons with some plastic skull ornaments Courtney attached with a glue gun. Not quite the holiday motif other teams strived for.
"We wanted to be different," said Alexis, a junior.
Nearby, the "Presents" team of junior Hailee Padgett, freshman Nicole Johnson and Denair Charter Academy Principal David Naranjo were working on something a little more traditional. Their wreath consisted of crinkled purple ribbon with white "DUSD" letters attached.
Simple … and effective.
"I'm going to put it in my office," said Naranjo.
Part of the project also involved accounting for the costs of the materials, which Doo purchased. Each student and administrator had to itemize what had been used as part of taking inventory.
Though some of the students have previous crafts-making experience with family members or friends, that's not required for Floral I, Doo said. For those who want to learn additional skills, she also teaches a Floral II class.
"My grandma likes to make things," said Hailee. "I've been trying to get into this class the past two years, but I had a pre-AP English class the same period."
Paper flower arrangements, larger wreaths and other decorations adorn the shelves and walls in Doo's classroom, reflecting assignments completed earlier this semester. Some of the students' work has been displayed at various districtwide events, including the fall trustees dinner, at the recent FFA tractor pull and on the homecoming parade floats.
Community members who would like to support the students can buy some 18-inch decorative wreaths between now and Christmas at Turlock Feed and Livestock Supply. Prices range from $35 to $65. More student work will be available Dec. 7 at the DECA Crafts Fair.
Doo said all the assignments using different materials this fall have led up to the final project. Students must create a paper flower display, permanent botanical arrangement or wreath that displays all the elements of design they have learned.
"Many of the students are planning to hang their final project as displays at home or give them to family and loved ones for the holiday," Doo said. "I'm super thankful that my students are excited about their final and I have hopes that it will all work out."