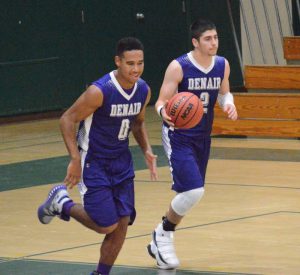 Submitted by Denair High School
Seven games into the season and on the eve of hosting their own holiday tournament, Denair High School boys basketball coach R.J. Henderson is beginning to understand his team.
The Coyotes are exceedingly young, they are more athletic than they have been in years and they're still figuring out how to play together.
An opening night victory over Turlock Christian was followed by four losses in a row – three of them at the Riverbank Tournament two weeks ago. Then came blowout victories last week over Millennium and Stone Ridge Christian.
"I think we've definitely turned the corner," said Henderson, now in his sixth season as head coach. "We really struggled to shoot it in Riverbank. The effort was there, but it was very disconnected."
Part of the early season growing pains could have something to do with youth and unfamiliarity. The Coyotes only have nine varsity players – two seniors, four juniors and three sophomores. Henderson expects them all to "play and contribute."
What little depth Denair has already is being tested. Senior center Dylan Mann – the tallest player at 6-foot-5 – rolled his ankle in Riverbank and may not play until the Southern League schedule begins in January. The other senior, forward Justin Short, suffered a broken nose last week against Stone Ridge. He's out at least a couple of weeks.
That means the Coyotes will have seven healthy players when they take on Waterford on Thursday at 8 p.m. in the first round of the Denair Holiday Classic. Denair's other games in the round-robin tournament are Friday at 8 p.m. against Turlock Christian and Saturday at 2 p.m. against Hughson.
Still, Henderson is confident the players who are available will continue to work together – even if rest will be at a premium this week.
Three of the Coyotes who have played all seven games already have emerged as leaders. Juniors Drew Pritchard and Steffin Winston and sophomore transfer Ben McGuire all are averaging right at 14 points a game as well as guarding anyone in their way on defense.
"Drew is our barometer," Henderson said of his returning all-league guard. "He's played very efficiently in our wins. He's a very cerebral player."
Despite being listed at 5-11 on the team's roster, Winston has moved into the middle of Denair's defense with Mann and Short injured. In Denair's two wins last week, he dominated in the paint, grabbing 16 rebounds in one game and 18 in the other. He also made more than half his shots.
"He may be the best leaper I've ever coached," said Henderson.
McGuire joined the team this season after spending his freshman year at Turlock High.
"He's a threat from distance and a slasher on offense," Henderson said. "He's very athletic and has a strong body. He doesn't look like a 15-year-old."
Another sophomore, Elvis Silva, also has caught Henderson's eye in the early going. "He's a Swiss Army knife. He can do a little bit of everything. … He knows the offense and he's very low maintenance."
Following their own tournament, the Coyotes will be off until after Christmas, when they will play on back-to-back nights at Ceres (Dec. 27) and home against Bret Harte (Dec. 28). They hope to be at full strength by the time the Southern League season begins at Waterford on Jan. 5.
Henderson pegged Mariposa as the team to beat in the Southern League, but said his young squad could open some eyes if they keep improving. Qualifying for the Sac-Joaquin Section playoffs is within reach, he believes.
"The goal is to compete to play additional games in February," he said.