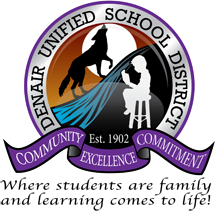 Submitted by Denair Unified School District
The Denair Unified School District Board of Trustees voted unanimously Thursday night to hire a Lodi-based consultant to lead the search for a new superintendent.
The board called a special meeting to deal with the impending departure of Aaron Rosander, whose contract expires at the end of June. Rosander has led the 1,272-student district since February 2014.
In open session, the five Denair board members and Chief Business Officer Linda Covello interviewed two companies by phone Thursday night. Both are experienced in executive searches and recruitments related to education.
Representatives of McPherson & Jacobson as well as Leadership Associates were asked questions separately for about 25 minutes each about their processes and results.
Trustees then discussed the merits of both proposals for nearly an hour before voting to hire McPherson & Jacobson, whose headquarters is in Omaha, Neb., but has offices all over the country. Retired schools superintendent William Huyett of Lodi will lead Denair's search.
Covello said the cost to the district will be between $8,500 and $13,650, paid for by so-called "one-time funds" received and saved over the past few years from the state.
She expects McPherson & Jacobson to present an outline of the recruitment timeframe at an upcoming board meeting. The company also intends to gather input from staff and community members about what they want to see in a new superintendent.