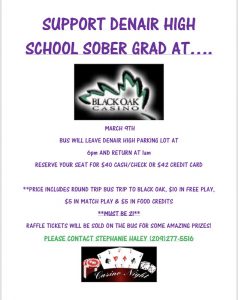 Submitted by Denair Sober Grad Nite
Denair Sober Grad Nite Boosters Club is hosting a Black Oak Casino Bus Trip on Friday, March 9, 2018. They are raising money for the Class of 2018 Sober Grad Nite.
Tickets will be $40 per person, cash or check,  or $42 with a credit card. They can process your credit card via Square. Ticket includes roundtrip bus ride to Black Oak, $10 in free play, $5 match play and $5 in food credit. There will also be raffle items to win on the bus ride up the hill. The bus leave at 6:00 pm and will be home by 1:00 am.
If you want to pay via credit card please Caley Rutherford via e-mail or text, using the phone number below.
There is only a limited number of seats available so save your seat as soon as possible. If you have any questions you can call Caley (209) 613-9228.
All passengers must be 21 years of age and have proper identification.