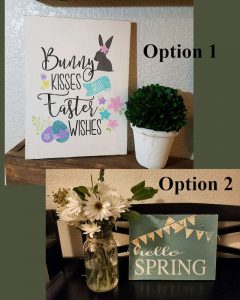 Submitted by Denair Gaslight Community Conservatory
Join the Gaslight Community Conservatory for an afternoon of creative fun and get your spring decorating started!
Step 1:  Choose one of the two sign designs available
Option 1: Bunny Kisses and Easter Wishes
Option 2: Hello Spring.
Step 2: Email your sign selection to info@denairgaslight.com by 8:00 pm, March 7th, to allow for preparation of materials.
Step 3: Come and enjoy an afternoon of treats, beverages, and fun!  Tickets can be purchased at the door. The cost of the event is $45.