Submitted by Denair Unified School District
An enthusiastic group of dedicated Denair Lions Club members spent most of last Saturday installing a new scoreboard at Jack Lytton Stadium on the Denair High campus.
For some of them, it was not a new experience.
As far as anyone can recall, the previous scoreboard was installed sometime in the late 1980s or early 1990s, according to Lions Club President Jeremy Rowell. And some of the same Lions Club volunteers helped then as well.
"We have an old newspaper clipping showing Lions club members put up the old scoreboard about 25 years ago," Rowell said. "Three of them in the old photo (Glenn Doerksen, Fred Zumstien and Gaylon Wade) were helping to install the new scoreboard this last weekend."
The project took only a couple of days to complete, but the planning began months earlier.
"We were approached by the school district at beginning of school year," Rowell explained. "The first idea was to retrofit the old scoreboard, but the more we looked into it, the more we thought we needed a new one. The other one was made out of fiberglass. It was all faded and didn't really work well anymore."
Last Friday night, the Lions Club crew spent a couple of hours dismantling the old scoreboard. Then on Saturday morning, they came back to start installing the new one. By late afternoon, the work was complete, including repainting the columns supporting the scoreboard.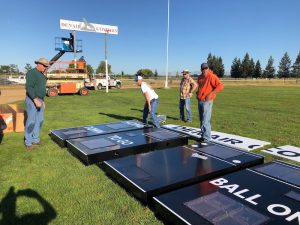 The project cost about $11,000, Rowell said – a bill completely paid for by the Lions through their various fundraising efforts each year (the 2nd Amendment Dinner, Surf 'n' Turf Dinner and Crab Feed).
West Steel & Plastics (T.J. McDonald), Acme Electric (Zumstien and Rowell), Joe Rocha Dairy (Joey Rocha) and the Denair Unified School District (Mark Hodges) donated materials, equipment, labor or, in some cases, all three.
Lions volunteer Tony Varni led the planning committee, which also included Mark Swartz, Geoff Wong and Doerksen.
At 20 feet by 8 feet, the new scoreboard is a little larger than the one it replaced, Rowell said. More importantly, it is has all the modern high-tech, digital features you would expect. What it doesn't have, at least for now, is a Coyote emblem like the old scoreboard. It's possible something can be added in the future, Rowell said.
The old scoreboard may be gone, but it's not been forgotten. The plan, Rowell said, is for the nameplate and Coyote logo to be repurposed in some fashion elsewhere on the Denair High campus.
Rowell appreciates the pats on the back his team has received from school district officials, students and longtime Denair boosters, but said that's not what inspires the 30 or so Lions members.
"We don't like a ton of recognition," he said. "We just try to help the community."