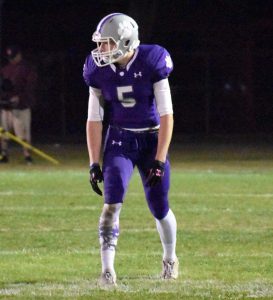 Submitted by Denair High School
Denair wide receiver Blake Davis has been selected to play in two upcoming football all-star games – the 45thannual Lions Club contest on June 16 in Tracy and the 33rdannual North-South Rotary game on June 23 in Merced.
Davis is believed to be the first Denair player since lineman Joel Huber in 2003 to be chosen for either game.
"I was pretty surprised," said Davis, who just returned from a graduation trip to Waikiki Beach in Hawaii. "I knew that coach (Anthony) Armas nominated me, but I was waiting quite a while. Then I got the text and said, 'Sweet.'
"It's kind of crazy to think I'm the first one from Denair in so long."
Like most Denair players, Davis played offense and defense the past few seasons with the Coyotes. But when Lions training camp begins June 11 at CSU Stanislaus, his focus will be strictly on offense. Last year, Davis caught 20 passes for 508 yards with eight touchdowns. The 6-foot-2, 180-pounder averaged 25.4 yards per catch, which reflected his speed and toughness, his coaches say.
"He's got good size," Armas praised. "He's strong. Very physical. He's the kind of kid who makes the difficult catches."
Added wide receivers coach Tim Fanning: "Blake has good hands. His yards gained after the catch was also very impressive."
Though Davis hasn't played football since November, he's been hitting the gym to stay in shape.
"Mainly weights, squats, bench and conditioning stuff," he said, adding the long layoff doesn't bother him. "If I get hit one time, that's the easy part."
He's looking forward to working with quarterbacks he's never played with before.
"We've really got to get our timing down," he said. "Let them known your speed and you their arms."
And playing on back-to-back weeks even in the summer heat? "Hey, that looks like a lot of fun."
Davis is undecided if the two all-star games will be his final times to put on pads. He's been invited to go out for the Modesto Junior College team this fall and has also considered played at Merced College. "Maybe I'll make up my mind during practice the next couple of weeks."