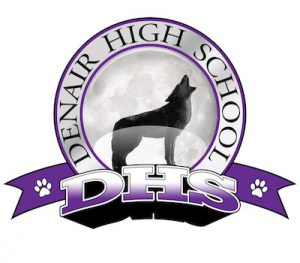 Submitted by Denair High School
Running backs get all the glory. Offensive linemen get all the bruises.
That's a bit of an oversimplification, but there are kernels of truth as well … as only a former offensive lineman like Anthony Armas can appreciate.
Asked to assess his team's dominant 56-18 victory over Millennium on Friday at Jack Lytton Stadium, the Denair football coach first mentioned running backs Dylan De Silva and Steffin Winston, who combined for 344 yards and four touchdowns on the ground.
But Armas quickly pivoted to the play of the Coyotes' often anonymous linemen, who consistently blew open holes in the Falcons' defense, allowing Denair to average of a gaudy 13.2 yards per carry (41 rushes, 542 yards).
"That's a high number," Armas deadpanned before singling out guards Carlo Morales, a junior, and Hayden Haile, a senior, for particularly strong games.
"They're our most active linemen," Armas said. "They do a lot of pulling."
Morales, Haile, and their teammates had their way with Millennium (0-2), allowing Denair (2-0) to race out to a 35-6 lead at halftime.
"I thought we played really well offensively," said Armas, whose squad was coming off a bye week after opening with a 32-0 whitewash of Woodland Christian two weeks ago. "The things we needed to fix on offense, we fixed."
De Silva piled up 175 yards on just 11 carries, scoring twice. Winston was even more efficient, needing just eight carries to gain 169 yards. Included were two TDS – one a 94-yard sprint – plus a 24-yard scoring reception.
Armas was less enthused by his defense, which allowed two touchdowns in the third quarter and three for the game.
"Generally, with how we run our defense, our linebackers and linemen need to get a read (on the opponents' players," he said. "We're still not reacting the way we need to."
Denair will have this week to correct those problems before hitting the road for the first time Friday night. The Coyotes take on Stone Ridge Christian (2-1) of Merced, though the game will be played at the old Castle Air Force Base site in Atwater.
"They're good-sized," Armas said of the Knights. "They can be very physical."
JV Game: Denair and Millennium tied, 14-14.