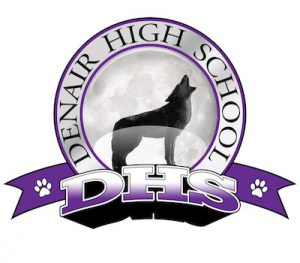 Submitted by Denair High School
ATWATER — Three games. Three blowouts. And now, in the mind of Denair High football coach Anthony Armas, the real season begins.
Dylan De Silva ran for 187 yards and five touchdowns Friday night as the unbeaten Coyotes erupted in the second half for a 56-28 non-league victory over Stone Ridge Christian.
Denair's offense has been unstoppable in the first three weeks of the season, averaging 48 points behind a potent backfield trio of De Silva, Hunter Musgrave, and Steffin Winston.
The Coyotes' defense – which features most of the same players as the offense – has been overshadowed but still very effective. They've recorded one shutout while holding opponents to an average of 15.3 points per game.
Up next for Denair (3-0) is the seven-game gauntlet that is the Southern League schedule, beginning Friday night at Le Grand.
"I don't want to get too ahead of ourselves," said Armas when asked about the meaning of a perfect preseason. He knows there are some tough opponents ahead in a league that features three undefeated teams (Denair, Ripon Christian Waterford) and as well as perennial powers Gustine, Orestimba, and Mariposa.
Friday night against Stone Ridge – on a converted athletic field at the former Castle Air Force Base – Denair took two quarters before asserting its dominance. The game was tied 21-21 at halftime before the Coyotes outscored the Knights 35-7 in the final two periods.
Much of the damage came on the same play – a trap to De Silva that Stone Ridge never figured out how to stop. The junior back consistently ripped off big chunks of yardage behind key blocks from tackles Zach Cherry and Derek Starkey and tight end Will Knox.
And when Stone Ridge began to key in on De Silva, Denair handed the ball to Musgrave (12 carries, 129 yards, 1 TD) or Winston (5 carries, 66 yards, 2 TDs).
Amazingly, Denair attempted just two passes Friday. One was a 29-yard completion to Winston on a screen; the other resulted in a sack.
"When our offense is going, you have to cover a lot of stuff as a defense," Armas said. "Some people try to overload to one side to stop us, but that just leaves someone else free."
Defensively, Armas credited the Coyotes for responding well to halftime adjustments made by the coaching staff.
"Every game is a feeling out process," he said. "We had a game plan going in. … We made some tweaks at halftime. I think the kids have a better understanding each week of what we're trying to do. We're getting better at reading our keys and filling holes."
Spearheading the defense were defensive end Scott Badal and middle linebacker Christian Obando.
Armas is satisfied with the progress the Coyotes are making but knows they must keep improving to compete successfully in the Southern League.
"Even plays that are working for us, we can get better," he said. "Each week, we're always trying to put something in – new plays, trick plays – to keep it fun for the kids. We may not use it that week, but you never know. And defensively, we still can get better at tackling."
JV Game: Denair lost 20-12 at home to Mesa Verde of Citrus Heights.
This week: The Coyotes play at Le Grand (1-2), which is coming off a 27-20 loss to Linden. Armas said Le Grand is still in a "rebuilding process," but has some talent. "They've got some big linemen and a good running back. I think it will be physically challenging. I expect them to take some shots down the field." … Denair debuted at No. 5 in the Modesto Bee's small-school rankings, which Armas was quick to shrug off. "That's nice, but it's just one guy's opinion."