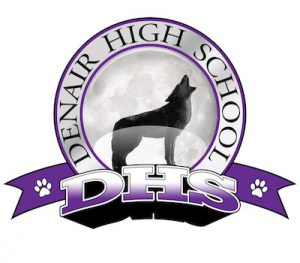 Submitted by Denair High School
NEWMAN – Drew Pritchard hasn't carried the ball a lot this year for Denair. He's spent more time at wide receiver and as a key part of a ball-hawking secondary on defense.
But Friday night he has desperately needed on offense. The senior responded in a big way, carrying the ball 14 times for 139 yards and three touchdowns as Denair posted an impressive 35-28 road victory over perennial Southern League power Orestimba.
Pritchard was pressed into service after starting fullback Dylan De Silva was ejected in the first half after an altercation with an Orestimba player. De Silva has been part of a dynamic backfield that includes Steffin Winston and Hunter Musgrave, but the Coyotes didn't miss a beat with Pritchard filling in.
"Drew's a good athlete who does well when he gets the chance on offense," praised Coach Anthony Armas. "He's had some long runs earlier this year. We really needed him Friday and he came through."
Pritchard also made his presence felt on defense, intercepting a pass in the first quarter to snuff an Orestimba drive. It was the first of three picks for the Coyotes. Will Knox stepped in front of an Orestimba pass deep in Denair territory late in the first half and Winston intercepted another throw in the second half in the end zone off a tip by Elvis Silva.
"I think something clicked in the Gustine game," said Armas, referring to Denair's 49-14 victory two weeks ago. "Our guys were just flying around on defense. They're really playing fast and creating turnovers."
The win kept Denair (6-1, overall, 3-1 in the SL) in a second-place tie with Waterford (6-1, 3-1) behind undefeated Ripon Christian (7-0, 4-0). Denair and Waterford play Oct. 26 on the final night of the regular season – a game that figures to go a long way to determining each school's playoff seeding.
Friday's game in Newman also had postseason implications.
Orestimba (4-3, 2-2) has dominated the Southern League in football. The Warriors ripped off a 23-game winning streak against SL teams on their way to three league titles in a row, but that's history now after back-to-back losses to Ripon Christian and Denair.
Against the Warriors, the Coyotes did what they've done in each of their six victories – control the line of scrimmage on offense and keep Orestimba's defense off-balance with a clever combination of misdirection running plays.
When Pritchard wasn't ripping off big chunks of yardage, it was Winston (15 carries, 99 yards) or Hunter Musgrave (14 carries, 93 yards, 2 TDs).
The Coyotes thrived despite an inordinate number of holding penalties – "It sucked in the moment, but in the end, it kept the clock going because we made first downs," Armas said – as well as the loss of one of their key blockers, left guard Hayden Haile.
Haile, a senior, suffered a broken left fibula (the small bone in the lower leg) and will miss the rest of the season.
Denair led 14-7 at halftime thanks to scoring runs by Pritchard and Musgrave and Knox's interception late in the second quarter.
The Coyotes never trailed in the second half. They led 35-20 with 2 minutes when Orestimba scored a TD and 2-point conversion. Orestimba's onside kick went out of bounds and Denair was able to run out the clock.
JV Game: Orestimba 41, Denair 0. The Coyotes are 1-4-1 overall and 1-3 in league play.
This week: It's homecoming for Denair against Delhi (0-7, 0-4). Though the Hawks are winless, Armas expects the fact it's a rivalry game to motivate both teams. "It won't take much to get our kids excited. It's Delhi," he said. … A scheduling quirk has Denair involved in four consecutive homecoming games – its own this week, plus Gustine and Orestimba the past two weeks, and Mariposa on Oct. 19. "The kids are talking about going 4-0 in homecoming," Armas said. "Orestimba was a great atmosphere last week. They had their kids come running out through a tunnel of motorcycles. I'm sure we'll do something special this week, too." … Friday's homecoming parade starts at the school at 11:45 a.m. and goes down Monte Vista Avenue into town. Game time is 7:15 p.m. at Jack Lytton Stadium. … Though Armas doesn't want to look ahead, he said his players know where they are in the standings. "The kids aren't stupid, but we've got to focus week to week on who we're playing," he said. "We've got to keep our eyes on the prize each week. Our goal is to not just make the playoffs, but have a long run in them."