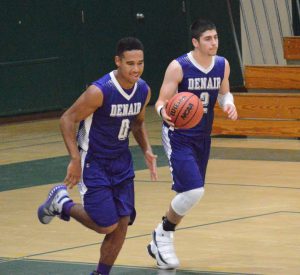 Submitted by Denair High School
Expectations have risen for the Denair High School boys basketball team.
The Coyotes have two all-league players returning from a squad that finished second in the Southern League last winter and qualified for the playoffs. They also have an athletic roster, including four players who still are riding high from winning a state football championship, plus a precocious freshman who already has flashed playmaking potential.
Seventh-year coach R.J. Henderson knows full well that expectations, potential and lofty goals are just empty talk in mid-December. The true measure of success will play out on the court between now and the end of February.
The Coyotes stand at 4-5 as they prepare to host their 20th annual Denair Holiday Classic Tournament this week. They will face Turlock Christian (a team that beat Denair 60-48 three weeks ago) at 8 p.m. Thursday, Big Valley Christian at 8 p.m. Friday and Escalon at 2 p.m. Saturday.
"The effort and athleticism on this team are by far the best of my seven years here," assessed Henderson after Tuesday's practice.
The Coyotes didn't reach full strength until last week – after the football team's amazing run that earned it a state title on Dec. 1.
Steffin Winston, Drew Pritchard, Elvis Silva, and Hunter Musgrave were all key members of the football team who only started practicing basketball last week. Henderson said they were on a minutes restriction as their bodies adjusted to a different sport, but that ended with Tuesday night's 52-48 win over Livingston.
The two returning all-league seniors – Winston and Pritchard – led the way with 16 and 12 points, respectively. Mario Plasencia, only a freshman, sealed the win with an offensive rebound and left-handed put back off a missed free throw in the final minute.
"He's ambidextrous," marveled Henderson.
Winston and Plasencia also dominated inside – racking up 29 rebounds and nine blocked shots between them, though both are only about 6 feet tall.
"They're both quick jumpers who play like they're 6-4 or 6-5," Henderson said. "They're going to surprise some guys this year."
Junior shooting guard Austin Upfold also has improved his game. He averaged nearly 17 points a game before the football players joined the team and presents another threat on offense.
Henderson is high on two other juniors – wing Elvis Silva (the football quarterback) and Turlock High transfer Hayden Feldman (the first big man off the bench).
"Elvis is just one of those glue guys every team needs," the coach said. "He can guard three or four positions in the Southern League. And he's very low maintenance. Just a super special kid."
After this week's tournament, Denair plays only two more non-league games – Dec. 20 at Soquel in Santa Cruz and Dec. 28 at home against Pacheco of Los Banos. The preseason schedule and tournaments all are geared to prepare the Coyotes for the start of the Southern League season Jan. 3.
Henderson says defending SL champion Mariposa still is the team to beat, but he expects the Coyotes to try and repeat their success of last season when they steadily improved and qualified for the Sac-Joaquin Section Division V playoffs. They lost in the first round to Summerville.
"We haven't beaten Mariposa in my six years here," Henderson said. "That's got to change."
Tip-ins: Henderson said the first Cajun Crab Boil fundraiser in November netted the team nearly $10,000. … The Denair Youth League basketball clinic begins on Jan. 12 and continues with games the next four Saturdays. The clinic is open to any boy and girl in grades kindergarten through sixth grade who lives in the Denair Unified School District.