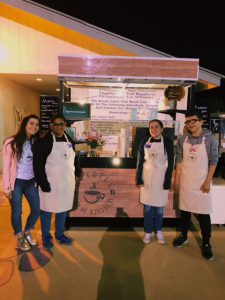 Submitted by Denair High School
An inspired idea by Destiny Silva has created an inspiring experience for six of her special education students at Denair High School.
Silva is a paraprofessional at the school. Part of her mission is to help her students learn important job and social skills that will allow them to enter the workforce after graduation.
What better way than to have them team up on a small business with a big payoff. So was born the Coyote Cups of Kindness coffee cart. It was idea Silva conceived of over the summer that blossomed into reality beginning in November.
The concept is relatively simple. The students — Fernando Carrasco, Obed Gonzalez, Henry Johnson, Austin McGregor, Pearla Perez and Danielle Tigner – operate the coffee daily just outside the administration office and at special school-related events. They take turns at the various tasks – mixing the hot and cold drinks on the 10-item menu, working the cash register and stocking the mobile cart.
The customers are mostly Denair staff, but as parents and other community members have come aware, business has picked up.
"I heard about it and I've been wanting to come, so here we are," said Melanie Keas, who was all smiles as she ordered a white chocolate latte recently. Her daughter, 2018 Denair grad Madison, was sipping a  Bee Positive – a combination of grape juice, pink lemonade, coconut milk and French vanilla syrup inspired by former special ed student Kayla Bernardi, who died of leukemia in 2015.
Silva said the idea of using the coffee cart to teach key life schools originated from a very personal place.
"My sister is blind and has special needs," she said. "I have always had a passion for children with disabilities and I've always known I've wanted to create an impact and make a difference for these children.
"One day, I was thinking to myself, 'How could I change the world in a little way?' and then it hit me. A coffee cart. A coffee cart that only children with disabilities work. What a way to give those kids a sense of independence as well as self-worth. It is so important to me that they know they are contributing members to this society."
She first approached her father about possibly taking out a business loan to fund the venture. Before that could happen, Denair High Principal got wind of the idea and pledged her support.
"The rest is history," said Silva, who is quick to credit food service manager Kim Fuentez and facilities director Brian Holloway for their help in bringing the idea to life.
"They both took me under their wing when it was not required," Silva said. "That says a lot about their character."
Silva said it's far more than drinks being created by the students working the cart.
"This program will teach them the basic life skills they will need for adulthood. After some time, we should start seeing their social skills expand tremendously, as well as their work-based learning skills," she said. "We aren't just focused on the coffee making, because that's not what it's about. What it's really about is making sure our students are able to be completely independent once they walk that stage come graduation.
"I hope this coffee cart starts to bring knowledge and awareness when it comes to starting to focus on the ability instead of the disability. This idea will grow in the upcoming years. It has already exceeded my expectations. … We now are partnering with local businesses and hope to get our students out in the community next semester. Our students will be unpaid interns for the businesses and will be gaining the skills needed to maintain a job once they graduate high school."
Silva's heart-warming project already has drawn praise from district officials.
"That is a beautiful thing," said Trustee Crystal Souza after a recent presentation at a school board meeting.
Added Trustee Ray Prock Jr.: "Destiny has a heart for this and it was great to see."
Silva said there are plans to extend the program to middle school students as well. And, in the future, there could be a Coyote Cups of Kindness store outside of campus.
"I hope to start my own coffee shop only employing people with disabilities somewhere located in downtown Turlock," she said. "Hopefully, my students can get prepared at the coffee cart, and once they graduate, they can come work for me."
The Coyotes Cups of Kindness cart is open Monday through Friday from 7 to 10:30 a.m. and 1:55 to 4 p.m. on the south side of the district office. You can follow the students' progress on Facebook at Coyotes Cups of Kindness.
This slideshow requires JavaScript.