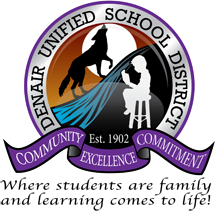 Submitted by Denair Unified School District
A new middle school math curriculum that has shown promising results during a pilot period this year moved one step closer to formal adoption at Thursday night's meeting of the Denair Unified School District Board of Trustees.
Known as enVisionmath 2.0 Common Core, the program is a comprehensive mathematics curriculum for grades 6–8. It uses problem-solving, interactive experiences and visual learning to engage students. Personalized math practice, built-in interventions, and customizable content deepen understanding and improve achievement.
Denair Middle School math teachers David Rodriguez and Anthony Narsi have been using the program since last fall. They told trustees they believe it will help to improve students' math skills and, ultimately, their performance on state tests, which has been a concern in the district.
Superintendent Terry Metzger said the middle school program is consistent with what was introduced last year at Denair High School. She said it is a hybrid of written materials as well as online programs and videos students access via Chromebooks at school or their own computers at home.
"It asks kids to apply math skills they're learning to real-life situations," she said. "It's very engaging. The teachers say students are asking for more math."
The cost of the program is $26,000 for a six-year license, plus hard-copy materials that must be purchased each year. Before trustees take a final vote in February, parents and community members can stop by the middle school campus and view the program, Metzger said.
It also will be discussed at Monday night's DMS Site Council meeting, which begins at 6 p.m.
In middle school, sixth-graders are focused on expressions and equations, seventh-graders on ratios and proportions, and eighth-graders on pre-algebra, Metzger said.
"The math these students are learning is pretty complex," she said. "Many middle school parents cannot help their children with middle school math."
In other action Thursday night, trustees:
Approved two changes to the 2019-20 school calendar. Schools will be out of session the entire Thanksgiving week, recognizing that attendance has been consistently low on the two days of class that week. Students will make up those days before Christmas and after Easter. A staff development day previously held in February was moved to the first day after the winter holiday break, one day before students return to class.
Approved overnight field trips for up to 12 Denair High School FFA students to a regional competition at UC Davis on March 1-2 and the state finals at Cal Poly San Luis, Obispo on May 2-4.
Scheduled the Local Control Accountability Plan meetings for Jan. 17 at the district office. These meetings are a chance for parents and community members to weigh in on school priorities and offer feedback to district officials before next year's budget is created. A meeting for Spanish speakers will begin at 4:45 p.m., followed by dinner at 5:30, and an English and Spanish meeting at 5:45 p.m.
Accepted an independent audit report 2017-18 that showed the district to be in compliance in all areas.