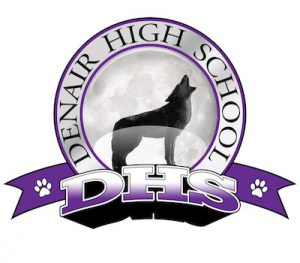 Submitted by Denair High School
SACRAMENTO – Denair High School Coach R.J. Henderson calls senior shooting guard J.T. Smith a "marksman." And one statistic illustrates that description better than any other. Of the 58 field goals Smith has made this season, 51 of them have been three-pointers.
"When's he on, he's changing the game," Henderson said.
Smith definitely was a game-changer Wednesday night, hitting three of the biggest shots in Denair's come-from-behind  68-61 overtime victory over Bradshaw Christian in the first round of the Sac-Joaquin Section Division V playoffs.
The win was Denair's first in the playoffs since 2007 and moved the 11th-seeded Coyotes (17-10) into Monday's second round against No. 3 seed Sacramento Adventist (24-5), which routed 14th seed Leroy Greene 73-28.
Denair's season is still alive thanks to some clutch shots from Smith. He drained a three-pointer with about 50 seconds left in regulation that cut Bradshaw's lead to 52-50. After a missed shot by the Pride, Drew Pritchard – who led the Coyotes with 26 points – made a basket to tie the game.
Denair's defense came through again, forcing another Bradshaw miss, but the Coyotes missed two free throws with 1.8 seconds that could have clinched the game.
No matter. Smith opened overtime with back-to-back three-pointers, opening a lead that Denair never relinquished despite starts Steffin Winston (13 points, 12 rebounds) and Mario Plasencia both fouling out early in the four-minute extra period. 
Smith, Pritchard and Elvis Silva all made key free throws down the stretch as the Coyotes pulled away on the road.
Smith didn't start against Bradshaw, but he played a pivotal role. All four of his field goals were three-pointers and he added four free throws.
"He's our second-leading three-point shooter in terms of makes," Henderson said. "That's his role. He can space the court. When he gets his feet set, he's good. He's a spot marksman."
Despite traveling nearly two hours to play, it wasn't an entirely hostile environment for the Coyotes. The school chartered a rooters' bus for students and they, along with parents and other supporters, filled about half of the 400 seats in the Bradshaw gym. The student attendance was made easier because there was no class Thursday and Friday as part of the long Presidents' Day holiday weekend.
"It was a great atmosphere. We had a great crowd, a lot of spirit," Henderson said. "The kids were pretty excited after the game and we let them have a great experience on the way home."
The coach credited last year's first-round playoff loss at Summerville for preparing many of this year's players for how to win on the road.
Some of this year's basketball players also were on Denair's state championship football team last fall, so they're used to the pressure of the bright lights and big games.
"Our senior class has had a lot of success. They didn't shrink in the moment," Henderson said.
When the playoff brackets were announced last Saturday, the Coyotes were disappointed to be seeded 11th despite finishing second in the Southern League. Bradshaw Christian (10-19) got a home game in large part because it played in the rugged Sierra Valley Conference and knocked off Liberty Ranch – the No. 1 seed in Division IV – in its final regular-season game.
"I look at it as us not being properly seeded," said Henderson, who has plenty of respect for Bradshaw. "It was a very hard league they played in. We're an 11 seed? Okay, the committee got it wrong, but we have to go out and validate that. If you lay an egg, then it doesn't matter. I kind of like going on the road, especially with the crowd we brought."
Tip-Ins: While the rest of the Division V playoff bracket resumes Friday, Denair won't play until Monday at 7 p.m. because Sacramento Adventist observes Friday as its Sabbath. … The Coyotes will practice Thursday and Friday. Henderson hopes to be able to get tapes of a couple of the Capitals' games so he can do some scouting. "They're 21-5 and challenged themselves in the preseason," he said. "They haven't played a close game for a while. … They've got two very good big players and a shooter who averages 21 points a game." … Sacramento Adventist's gym is on the Carmichael campus, 5601 Winding Way. … Southern League champion Mariposa (23-5), seeded fifth, won at home 73-47 Wednesday against No. 12 Hughes (15-11) of Stockton. The Grizzlies play at No. 4 Ripon Christian (19-9) on Friday. The Knights defeated Gustine 84-35.  … The semifinals will be played on the higher seeds' courts next Wednesday. The section finals will be at Golden 1 Center in Sacramento on Feb. 22 or Feb. 23.