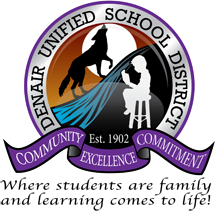 If you have reason to be on a Denair Unified School District campus Thursday or attend the monthly school board meeting that night, you may notice many teachers, administrators and staff members wearing red.
No, the Coyotes have not changed from their traditional purple to a new color.
Instead, red reflects a local one-day public effort called "Red for Ed" to call attention to a campaign driven by multiple unions, the California School Boards Association and the Association of California School Administrators highlighting the chronic lack of funding for schools in the state.
Here are a few sobering statistics:
Despite being the fifth-largest economy in the world, California ranks 41st in per-pupil spending in this country
California ranks 45th nationally in class size
California is 48th in pupil-to-staff ratio
Red for Ed is one way for educators to galvanize public attention on a problem affecting almost every school in the state.
"School districts across the nation are being asked to provide more support for students than ever before," said Terry Metzger, Denair's superintendent. "Yet new mandates rarely come with the funding required to carry out the task. The Red for Ed movement is about standing up for resources that  our students, schools and communities need."
California spends an average of $10,291 per student per year, nearly $2,000 less than the national average ($12,252). Class sizes average 22.1 students, well more than the national average (15.4). And in California there are 11 students per staff member, three more than the national average.
In California, there currently is a push at the state level to increase school funding to the national average by 2020 and to the average of the top 10 states by 2025.
"To put it in perspective," Metzger explained, "if we were funded at the national average, Denair's annual budget would see an increase of more than $2 million! This money would positively impact our ability to provide the programs and services that our students deserve."
Thursday's Red for Ed display has the support of the DUSD board and administration as well as the Denair Unified Teachers Association and local members of the California School Employees Association.