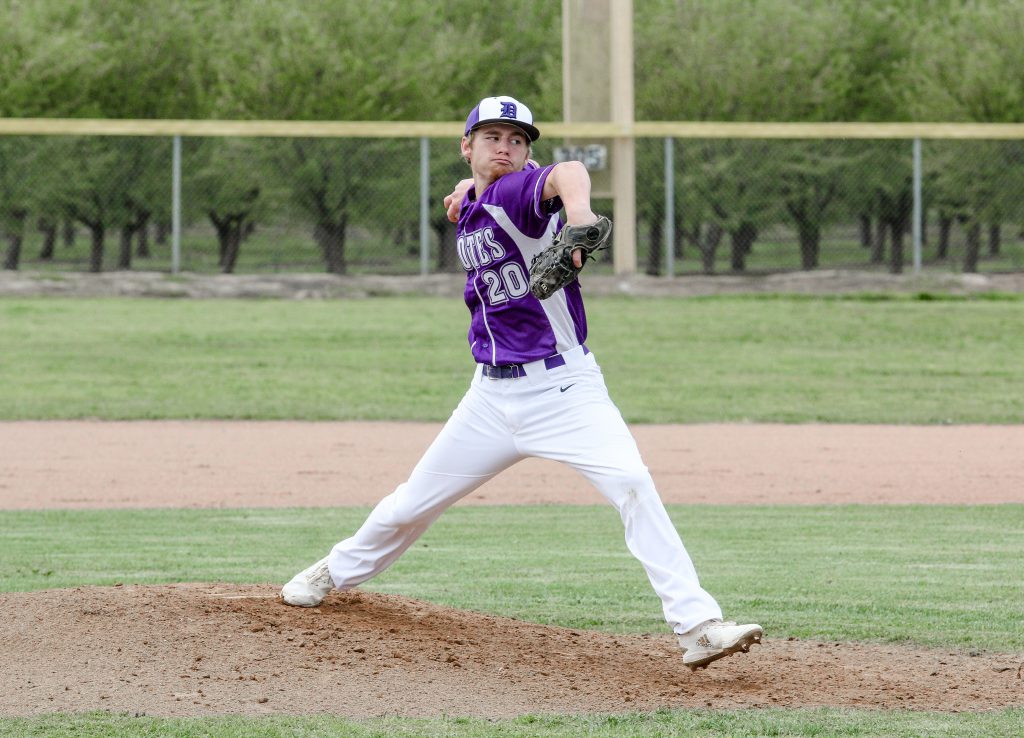 Submitted by Denair High School:
JT Smith knew exactly what the situation was as he took the mound in the top of the seventh inning Friday. He was three outs from a perfect game.
Not a single Delhi batter had reached base against the Denair senior. Most, in fact, hadn't even put the ball in play. Smith had struck out 17 of the first 18 hitters he faced.
His Coyote teammates, meanwhile, had methodically built a 9-0 lead at Ron Cornell Field, so the outcome wasn't in doubt.
The only question was whether Smith could compose himself and record three more outs without allowing a baserunner.
"I knew the game was going by pretty quick," said Smith. "I asked someone when we were up what inning it was. They said it was going to be the seventh. No one wanted to say anything.
"When I went out to the mound, I saw my mom in the stands. My dad went down the outfield line. I was nervous, I admit it. It was pretty intense."
Facing the top of the Delhi lineup for the third time, Smith relied on his overpowering fastball to quickly strike out the first hitter.
"It was 1-2-3, all fastballs on him," Smith recalled. "The second guy got my last full count. I threw a fastball right down the middle and he watched it. The last batter came up and my heart was really beating. In my head, I'm thinking, 'I've already struck him out twice. He's not close to my fastball. Just throw it down the middle. He can't hit it.'
"I got a 2-2 count on him. I stepped back on the rubber and took a bunch of deep breaths. I saw my mom; saw her recording. She was all nervous. I just stepped on the mound and threw probably the most beautiful pitch for a hitter. He swung way late and missed it."
And with that, Smith stamped his name in the California high school baseball record books.
His 20 strikeouts in a seven-inning game tied the Sac-Joaquin Section record set in 1982 by Steve Young of Amador.
He tied the second-highest seven-inning strikeout total in state history. Shinjiro Kitano of Southwestern High in San Marino recorded 23 strikeouts in 1990 because at least two hitters reached first base while striking out because of passed balls or wild pitches.
Smith tied for fifth all-time for strikeouts in a game. The record is 34, set in a 13-inning game in 1915 by Joe Cartwright of Washington High in Easton. Dave Smith of Sacramento High whiffed 27 in 19 innings in 1944 and Young, the Amador pitcher, struck out 25 in 11 innings in 1982.
"JT was electric," summed by Denair Coach Craig Cumberland. "He's been pitching excellent all year. He works fast and throws strikes."
Smith features a mid-80s cut fastball – which breaks away from right-handed hitters and often jams left-handers – along with a sharp-breaking curveball that his coach says "buckles hitters' knees." Twice against Delhi, he struck out the side on only 11 pitches.
"I have a natural cutter," Smith said. "For some reason, I cannot throw anything straight."
The only ball Delhi put into play Friday was a soft line drive to Denair first baseman Jacob Carlos in the second inning. Smith went to three-ball counts just three times.
He and catcher Elvis Silva recognized early that Delhi's hitters were overmatched.
"He was the one who told me that they were way behind my fastball," Smith said of Silva. "He told me he was going to put one down (the sign for a fastball) and if I wanted to throw a curve, just shake him off. But I didn't want to throw too many slower pitches because I didn't want to speed up their bats."
Said Cumberland: "He was hitting his spots pretty well and they just couldn't get any wood on it."
Smith is just shy of 6 feet tall and weighs about 175 pounds. He's a good athlete who plays catcher or shortstop when he's not pitching. His previous high for strikeouts in a game was 15 last year against Le Grand.
Smith has 81 strikeouts in just 44 innings this season. He's allowed only 23 hits, 24 walks and 10 earned runs. Despite those gaudy numbers, his record is just 3-4 with a 1.59 ERA. He's also thrown two one-hitters – against Le Grand and Waterford. Unfortunately, the Coyotes lost both games.
Did Smith feel something special might happen on Friday?
"Right now, I feel like when I get on the mound I'm way better than anyone at the plate," he said. "I feel like there's no one who can compete with me — even though there are. I'm confident. It's a good feeling."
Denair (6-9 overall, 6-6 in the Southern League) is not in line to make the playoffs as it prepares for its final two games this week against Ripon Christian. Wednesday's start at home will be Smith's final one for the Coyotes.
As the club's only senior – the rest of the roster includes three juniors, six sophomores and four freshmen – Smith embraces his role as a team leader.
"It's cool because a lot of the underclassmen listen to me. They know I've been playing a long time," he said. "It's a little frustrating because some of them are so young, but they're trying to get better. I've got to be there for them when they're not having a good game. It's actually been one of my most fun years."
Smith has a baseball pedigree. His parents named him Jacob Thomas so his initials would be JT (without periods) – after former San Francisco Giants first baseman J.T. Snow.
His plans are to likely attend Merced College, where he knows some of the players and is impressed by the coaching staff, and then see if he can continue his baseball career at a four-year school. After that, he wants to become a firefighter.
Smith's perfect game is the second time the Coyotes have held an opponent hitless this season. Nick Collins threw a no-hitter in a 3-1 victory over Gustine on April 3.
"It's funny. When Nick threw his no-hitter, it didn't even dawn on me until our left fielder said something after the game," said Cumberland. "With JT, we had a few runs and we were more relaxed. JT was aware of it and other players were, too. So were the coaches, but we didn't say anything until he was on the mound."
Cumberland ranks the perfect game among his top baseball memories.
"I've been around Denair since the 1970s and I've never seen anything like it," he said. "Delhi is a young team, but you still gotta do it. They were trying like crazy, but they couldn't touch him. You know how rare a perfect game is. Someone gets a flare or Texas Leaguer or a grounder through the infield, or you walk a batter or hit someone or somebody makes an error. It can end that quick."
Smith's perfect game is believed to be a first for a Denair pitcher since Paul McWhorter in 1966, when he struck out 12 in a win over Ripon Christian. Smith's 20 strikeouts broke the school record of 18 set in 1951 by Dave Warnock, nicknamed "Lefty." Warnock threw two no-hitters that season, including one in the San Joaquin League championship game against Los Banos at Del Webb Field in Modesto