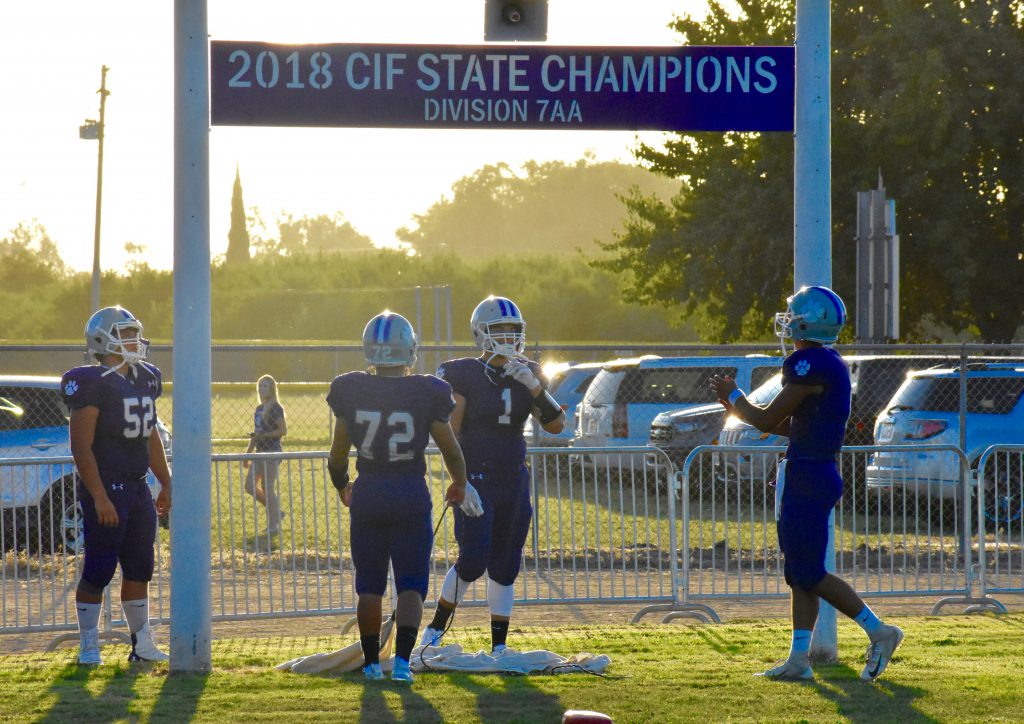 As if the excitement of putting on the pads and playing under the lights for the first time this season wasn't enough for Denair on Friday night, the Coyotes received an inspirational boost before kickoff when a sign reading "2018 CIF State Champs, Division VII" was unveiled hanging on the west scoreboard at Jack Lytton Stadium.
Head coach Anthony Armas called the ceremony "pretty freaking cool" and the home crowd clearly agreed.
All the emotion may have been overwhelming to Denair's players, though. They promptly gave up a touchdown on the opening drive to Millennium of Tracy.
The Coyotes quickly rallied behind a dominant offensive line and running back Dylan De Silva, who was a one-man wrecking crew on offense and defense. He ran for 185 yards and three touchdowns and also intercepted a pass on defense as Denair breezed to a 49-14 victory.
"We started out a little slow, but we figured it out," assessed Armas. "It was good to knock off the rust. Our offense worked from the get-go, but we've still got some things to fix."
One thing that doesn't need fine-tuning is De Silva's performance. The senior running back had his way with the Falcons, darting through the middle and around the edges seemingly at will. He scored on runs of 3, 12 and 1 yards in the first two quarters, when he had 130 yards of his rushing total.
"We've been practicing hard all summer and all week and we were just ready," he told the Turlock Journal. "It was our first game since winning state and we wanted to make a statement."
The Coyotes definitely delivered a message in the first half, racing to a 28-14 lead behind De Silva's three scores and a 2-yard run from Jorge Yanez.
With senior quarterback Elvis Silva directing the offense, the Coyotes' running game appeared to be in midseason form. In addition to De Silva, Yanez and Damien Peral also got into the action, both scoring TDs.
"I thought our offensive line played pretty well," Armas said. "And so did Yanez and Peral."
Armas also was pleased with his defense, which stiffened after the first drive and didn't allow a point in the last two quarters. The second half also featured an interception returned for a touchdown by Silva. The coach was impressed by defensive tackle Ulises Corrales, nose guard Drake Francis, and linebackers Christian Obando and Will Knox.
"They really controlled the middle," Armas said. "Millennium couldn't really run the ball. Ulises is in his third year on the varsity and Drake is in his second. Ulises was 14 when we brought him up. He's really matured and worked hard in the weight room. Same with Drake. And when you add Christian and Will in there, we're pretty stout in the middle."
JV Game: No game held
This Week: Denair (1-0) will take a three-hour bus ride to play Woodland Christian (0-1), which lost 34-10 to Galt on Friday. The trip to Woodland completes a home-and-home arrangement that saw Denair win 32-0 last year. … Armas said the Cardinals are big. "Every kid on their defensive front is over 6 feet and 200 pounds." … What will the Coyotes focus on in practice this week? "Offensive line footwork. Fakes in our backfield. Defensive alignment issues. All the attention to details stuff," Armas said. … Because Woodland Christian doesn't have a junior varsity team, Denair's JVs will be off again this week.