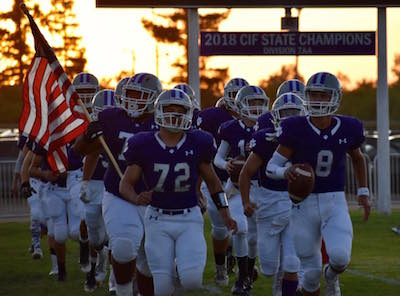 Penalities. Turnovers. Composure.
Expect Denair football Coach Anthony Armas and his assistants to return to those three themes again and again this week in practice.
That's because while Denair's 20-12 victory over Le Grand on Friday night was gratifying, it was anything but satisfying to the Coyotes' coaches, players and fans at Jack Lytton Stadium.
The Coyotes, at times, were poised and proficient, like when they scored three consecutive touchdowns in the second quarter to take a 20-0 lead. But they also were their own worst enemies, with their sloppy play and lack of focus allowing Le Grand back in the game with a pair of third-quarter TDs.
"We shoot ourselves in the foot, big time," assessed Armas.
Denair (3-1 overall, 1-0 in the Southern League) looked to be in control in the first half behind running back Dylan De Silva and quarterback Elvis Silva.
De Silva motored for 178 yards on the ground, including a 22-yard TD run for the first score of the game. He also caught three passes for another 42 yards, including a 9-yard touchdown from Silva for Denair's second score.
A few minutes later, Silva hooked up with Jacob Lewellen on a 23-yard TD pass, giving Denair a comfortable 20-0 lead at halftime.
But the momentum shifted quickly in the third quarter. Denair fumbled the opening kickoff, setting up Le Grand (2-2, 0-1) with a short field. The Bulldogs took advantage, scoring to cut Denair's lead to 20-6.
A second Denair fumble – this one when the Coyotes were driving for a score – gave Le Grand the ball back. Again, the Bulldogs cashed in Denair's mistake, scoring to make it 20-12.
But it wasn't just turnovers that plagued Denair. The Coyotes kept piling up the penalties, mostly on holds and blocks in the back.
"At one point, we had first down on their 15-yard line and the next thing I knew it was third-and-50 because of penalties," Armas said.
He said he and his staff will preach again this week in practice about ball control. Both the fumbles, Armas said, came when Denair players were fighting at the end of plays for extra yardage.
"We can work on that, about how they cover the ball up in traffic," he said.
More worrisome, he said, is the lack of composure that resulted in the rash of penalties.
"Some of them were ticky-tack calls, but some of them were right," Armas said. "I don't want our kids to play hesitant. We were being aggressive, which is great, but we've got to be smart doing it."
Having his teams play with poise is one of the things Armas takes the greatest pride in.
"We're getting too high and too low during the game, getting caught up in the moment," he said. "We need to be more even keel. That's something we've really harped on."
JV score: Le Grand 34, Denair 7. The Coyotes are 1-3 overall and 0-1 in the Southern League.
This week: Denair goes on the road to play defending Southern League champion Ripon Christian (3-1, 1-0), which defeated Waterford 50-0 on Friday night. "Big, physical, fast" is how Armas described the Knights, who handed Denair its only loss in last year's Division VII state championship season. "I don't think they're as good as last year, but they're still very good," Armas said. … Denair's victory over Le Grand came after the Coyotes had their 10-game losing streak snapped the week before by Soquel of Santa Cruz on a last-minute touchdown. … Armas was pleased with the effort of his defense against Le Grand, saying, "We played very good team defense."