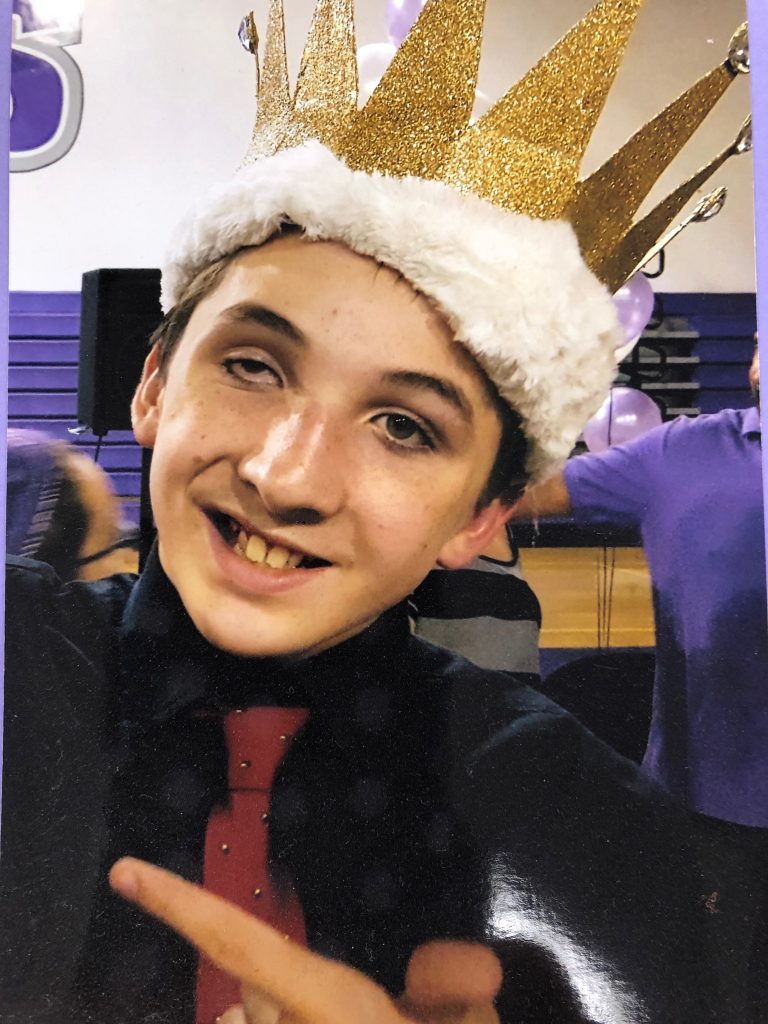 There were plenty of moments of celebration at Thursday's Denair Unified School District Board of Trustees meeting, which ended on a somber note with the announcement of the death of a Denair High student earlier this week.
Merrick McIntire, 17, died Monday night from a brain seizure. He, his father and two of his six siblings were seriously injured in June 2016 when their minivan was rear-ended in a multiple-car collision on Highway 165 near Hilmar.
Merrick suffered a serious brain injury in the wreck. He was sitting in the back of the van when it was struck from behind by a speeding Ford pickup driven by Hilmar woman.
At Thursday's meeting, Denair High Principal Kara Backman paid tribute to Merrick, a junior who was a popular member of the school's Project Life program for disabled students. Already, signs of tribute have popped up on the campus, including special T-shirts designed by players on the girls soccer team.
"He was an amazing young man," said Denair Superintendent Terry Metzger. "Our thoughts are with his family and friends at this sad time."
Merrick's funeral is being planned for Friday, Dec. 20.
Earlier, trustees recognized a number of teachers and staff members who have made significant contributions to the district.
High school ag teachers Holli Neilson, Taylor Doo and John Hultgren were honored for their efforts to build up the FFA program, which recently received an Outstanding Medium Program award.
High school art teacher John Stavrianoudakis, Hultgren and others were acknowledged for their contributions to Denair's float in the Turlock Christmas Parade on Dec. 6. The theme was "Christmas at the Arcade." Denair's float – which depicted a coyote playing a video game — won the award for Best Themed entry.
Retiring employee Cindy Citti also was thanked for her service over many years.
In other action, the board:
Received a positive financial report from Chief Business Official Linda Covello, who shared that although enrollment continues to increase expenses continue to increase as well resulting in deficit spending over the next two years. While the District is not currently expecting deficit spending in 2021-22, Covello cautioned that the newest economic reports show signs of downturn that same year. Metzger said district officials look forward to attending the governor's budget workshop in January with DUTA President Lori Cole and CSEA President Gayle Schell, and then returning to negotiations on new contracts with the two unions.
Heard a report from Metzger about the district's continued improvement on the most recent California School Dashboard State Indicators, which monitor student performance in key areas.
Adopted Pearson MyWorld as the new history/social studies curriculum at Denair Middle School.
Discussed and adopted a new board policy that outlines appropriate adult-student interactions, including electronic interactions.
Heard a report and watched a video from FFA students who attended the national convention last month in Indianapolis.
Listened to a report from teachers Melissa Perez and Vickie MacFarland about the K-8 home-school program at Denair Charter Academy.
Thanked Trustee Regina Gomes for serving as board president in 2019. Trustee Crystal Sousa was elected to be the 2020 president while Trustee Kathi Dunham-Filson will be the clerk .