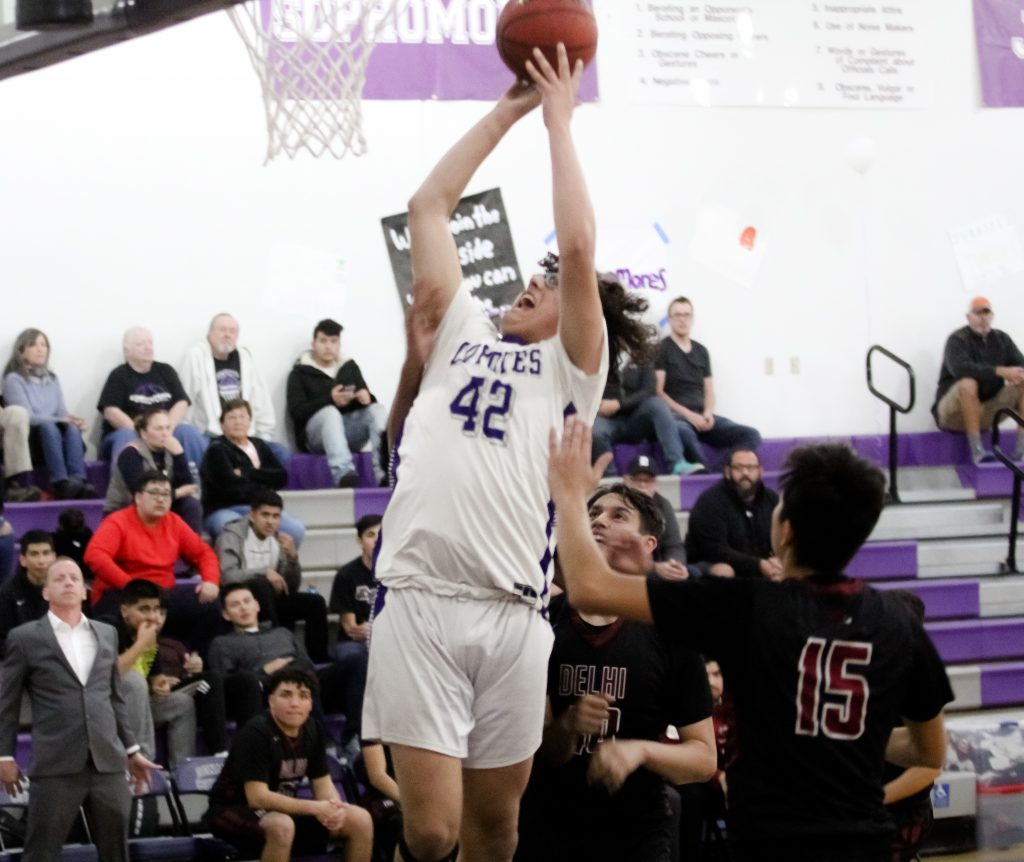 One of the strengths this season of Denair's boys basketball team has been its balance. The Coyotes haven't relied on any one player to carry them. The sum of all the parts has been better than any individual.
That changed Friday night, when senior center Jacob Kuharski stepped up when most of his teammates were struggling with by far his best game of the season. The 6-foot-6, 235-pound senior dominated, scoring 20 points and grabbing 17 rebounds to propel Denair to a 61-51 victory over Buckingham Charter of Vacaville in the second round of the Sac-Joaquin Section Division V playoffs.
"If we don't have him, we don't win the game," summed up Denair Coach R.J. Henderson.
The Coyotes (26-2) – playing in front of nearly 600 people, their largest and most boisterous home crowd in Henderson's eight seasons as coach – were uncommonly tight for much of the game.
Denair had its worst quarter of the season to start the game, scoring just five points to trail 12-5
It missed 17 of its 27 free throws, including two air balls from the foul line
It made only five of its 19 3-point attempts, well under its average
To the rescue rode Kuharski, a transfer from Pitman High who had to sit out the first 13 games. Since he joined the starting lineup in January, he has averaged 10.7 points and 8.2 rebounds. Then came Friday, when he had his way in the middle against mostly smaller defenders.
"Jacob had his best game in our program," Henderson said. "He was timely and consistent. The motor was finally there. He's by far the highest skilled big I've coached here."
Other than Jordan Smith-Spires – who added 13 points and 11 rebounds – the rest of the Coyotes were not themselves in their first playoff game this year.
"Collectively, everyone played tight," Henderson said. "I told them after the first quarter that I was still waiting for the Denair basketball team to show up."
Though the Coyotes managed to even the score at 22-22 by halftime, Henderson still wasn't happy.

"It wasn't a lack of effort," he said. "They just let the moment get into their heads."
In the second half, Denair slowly built its lead and pulled away, assuring the third-seeded Coyotes of a rematch Tuesday night in the third round of the Division V tournament against No. 2 Bradshaw Christian (17-12), which defeated Woodland Christian 78-66.
Last year, Denair upset sixth-seeded Bradshaw 68-61 in overtime in the second round.
"It will be a whole different deal this week," Henderson said. "We have to be disciplined. There's no space to go rogue or individual on offense. We have to be selective when we shoot and we have to stay in front of them on defense. They have some dynamic kids who can drive."
New to the Pride this season is 6-8 senior Javion Cooper center, who averages 12.7 points, 12.3 rebounds and three blocks a game. He is complimented by 6-2 junior Jaylen Patterson, who leads the team in scoring with 13.7 points a game.
"We've got to put as many bodies between the ball and the basketball as possible," Henderson said. "What concerns me is this team's ability to attack angles. They're also good in transition. They like to get out and run. Our guys who normally are crashing to get rebounds have to rotate and get back on defense."
The winner of tonight's game will play for the Section championship against the winner of the other semifinal, which matches No. 1 Brookside Christian (21-8) vs. No. 4 Argonaut (15-15). The title game will be played at noon Friday at the Golden One Center in Sacramento, home of the NBA's Kings.
No matter what happens tonight, Denair is assured of at least one more game next week. All four semifinalists already have earned a spot in the Northern California tournament. The results this week will determine how high they're seeded.
"We achieved our goal, which was to play in March, but I told the kids it's time to get a little greedy," Henderson said. "I don't think we can play any worse than we did last week. I think our core group will do much better."If you go: Bradshaw Christian is in Elk Grove at 8324 Bradshaw Road. From northbound Highway 99, take the Calvine Road exit and head east to Bradshaw Road. Turn left and the school will be on your left.