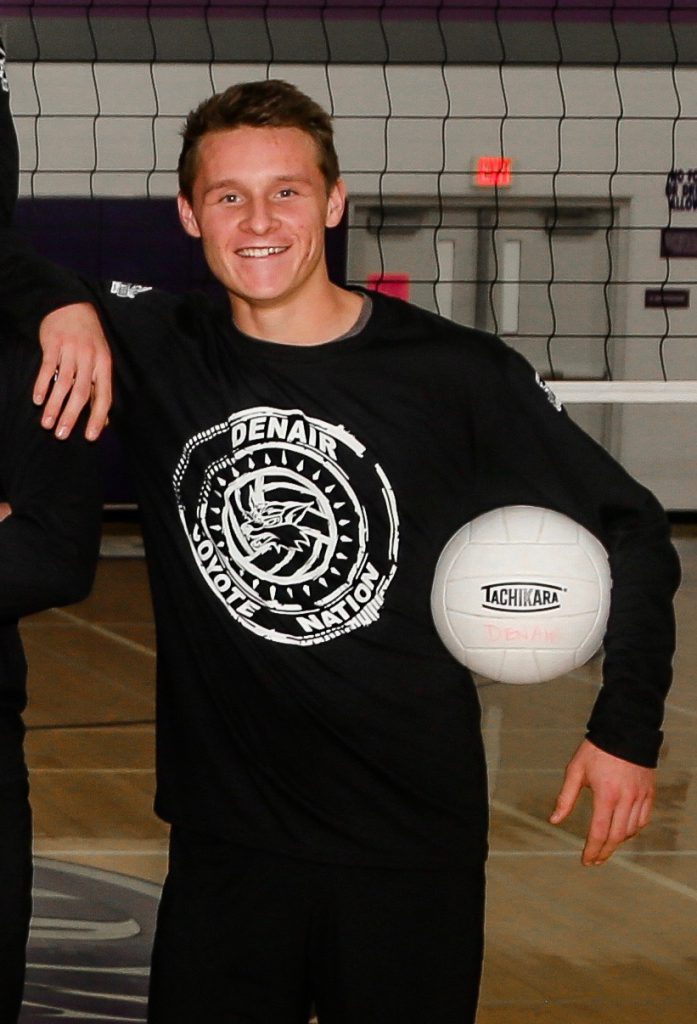 Jacob Lewellen's passion for volleyball is undeniable. The recent Denair High graduate was the driving force behind the formation of a boys volleyball team this year at the school. And even though the COVID-19 pandemic wiped out the inaugural season after just two games, Lewellen's dedication to the sport earned him some well-deserved recognition when he recently was chosen for a regional all-star team.
Lewellen was one of 12 players selected for the South Small-School team in the Sacramento Optimist all-star games, which were scheduled for May 31 but cancelled because of coronavirus health concerns.
"It was kind of unexpected," said Lewellen of his all-star status. "I didn't know it was a thing."
Lewellen was exposed to high-level volleyball from an early age. His father, David, was a pro beach volleyball player when the family lived in Florida. When they moved to California, David served as the coach of the girls team at Denair High. Jacob was in middle school then and participated in almost every practice.
Three years ago – when Jacob Lewellen was a sophomore — Christy North became the new girls coach at Denair High. Lewellen learned that she had coached boys teams in Los Angeles. He began to pester her about starting a boys team. A seed was planted.
"We had to get approval from the principal and the athletic director and the school board," Lewellen said. "We went through all those requirements. It took a long time."
Once everyone signed off, recruiting enough boys to join the team – which would play in the spring — was the next hurdle. Lewellen said his friend Christian Obando helped.
"Actually, it wasn't that hard," Lewellen said. "Denair is a small school. Everyone knows everyone. We basically recruited the whole soccer team and our friends group. It was hard to convince people from the track and baseball teams, but once they came to practice, they had fun."
Lewellen – a 5-foot-10 outside hitter who also plays on the Modesto Rage traveling volleyball – was the only one of the 10 players with any experience. He was the team captain and "led the boys into the world of competitive volleyball with confidence and integrity," according to North.
"Jacob led this team with great passing, a killer jump serve and strategic hitting," North wrote in her all-star nomination form. "He played for his teammates and they played for him, and they became confident, ready to take on the mightiest of teams. … He loves volleyball and through his passion, 10 other boys began to love it, too.
"Not only would Jacob have received many awards for his play, his sportsmanship and his leadership, but he would have been the reason that quite a few other players on our team would have achieved such accolades also. Jacob may not have the awards to show it, but he is truly an All-Star."
Lewellen harbored an ambition to play volleyball collegiately at UCLA, one of the nation's top programs. He even attended one of the university's camps. He also took a power volleyball class at Modesto Junior College, where he would play for three hours some nights after practicing with the Denair team earlier in the same afternoon.
"He worked his butt off at the MJC class and the UCLA camp, and was so happy to get onto the Modesto
Rage club team," North said. "However, I think it was playing with Rage that he began to see the reality of his situation. I would never have told him that playing for UCLA would be the same odds as a lottery ticket, but he figured it out for himself. He decided he wanted to go to UC Davis and focus more on his academics and career."
Lewellen will begin his UC Davis career as a biotechnology major in September. He also hopes to try out for the volleyball team, probably as a "libero" – a player who plays in the middle of the court, returns opposing serves and facilitates passing.
"I'm hoping to," he said. "I don't know if club will be happening with COVID."
North – who hopes to field a boys team again at Denair next spring – said she was "over the moon" that Lewellen received acknowledgment for what he has done to get the school's program this far.
"I was so glad that the all-star selectors could see he was a kid who did everything he could to get the right opportunity," she said. "And he had his season yanked right from under him, like so many kids in the other spring sports. He deserved that recognition because of how hard he worked and how much effort he put into it."