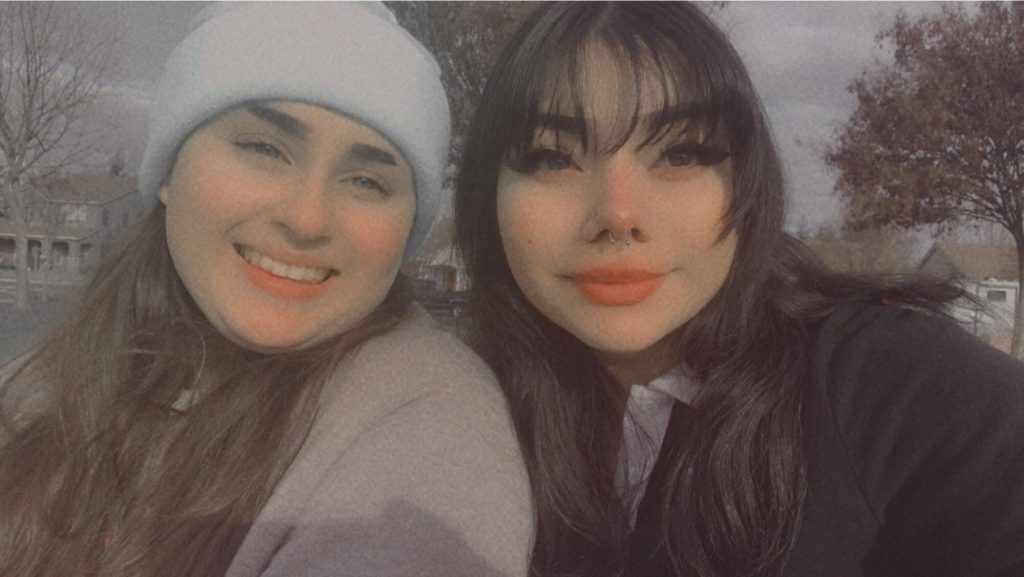 What are the odds of two best friends from the same small high school both being among just eight student artists to have their creations honored in a countywide contest with more than 300 entries? Probably pretty high.
Improbable as it may be, that's exactly what happened to Denair High School seniors Ayla Monte and Kimberly Vega.
They were among the hundreds of Stanislaus County students who submitted work to the Office of Education in downtown Modesto. The office is undergoing some big renovations and officials there wanted to showcase student artwork.
"I think it's a crazy coincidence that we were both picked together out of all the submissions," said Vega.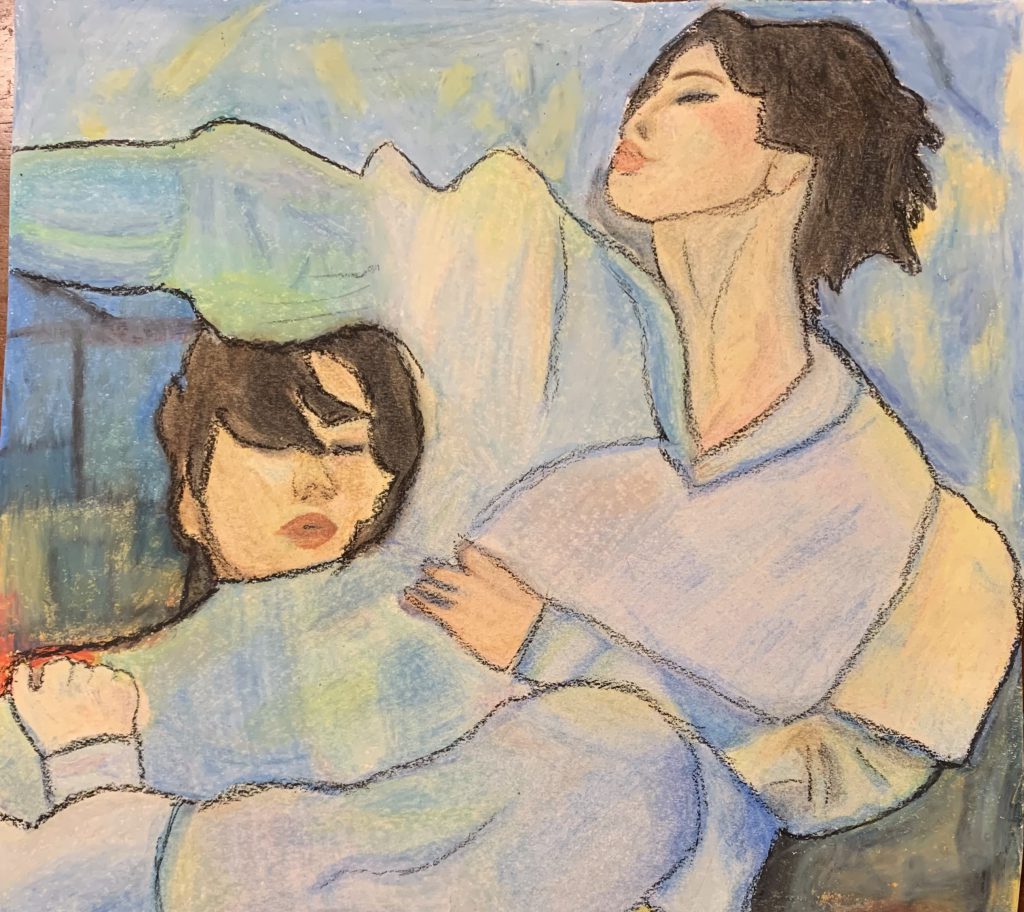 "I thought it was funny at first that we both were chosen, but then I was shocked when I realized it was out of 300-plus entries," Monte said. "It hit me then how huge of a deal the whole thing was."
Denair art teacher John Stavrianoudakis said it's appropriate Vega and Monte were selected because "they always seem to be together."
"I guess I could describe them as full of life, witty, vivacious, independent young women who have a talent and interest for art," Stavrianoudakis said. "It's funny that they both got chosen, because I jokingly refer to them as 'partners in crime' because they are always hanging out together and are teaming up on doing the only ceiling tile painting that is being done this year due to COVID-19."
The girls have known each other since middle school, they said, but became closer three years ago as sophomores. Neither showed the other what they were working on before their entries were submitted.
"I remember sending Kim little updates now and then, but the only time she saw the finished piece was when I submitted it for the art show," Monte said.
"We normally don't really show our work, but I do give Ayla pieces I've made," Vega added.
The projects were part of school assignments made by Stavrianoudakis.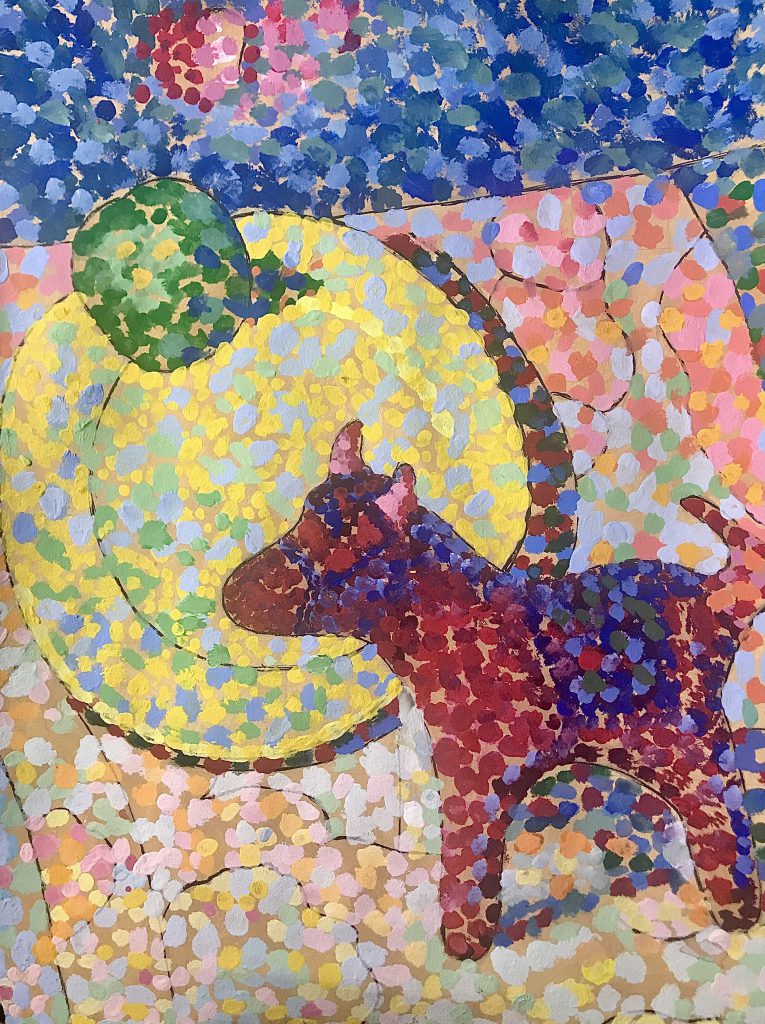 In Vega's case, students were asked to choose a painting from Georgia O'Keefe and replicate it in the pointillism style that Seurat was famous for, Stavrianoudakis said. Vega said she finished the acrylic painting in two days over Thanksgiving break.
Monte's drawing wasn't completed until late February and was part of an oil pastel assignment. It was inspired by the K-Pop group BTS's "Black Swan" performance in the 2020 MAMA awards. She admitted that "it took me a long time to finish, mainly because of the constant blending and matching of the color scheme I was going for."
During the pandemic and the move to distance learning, Vega and Monte said they have missed the day-to-day connection with their teachers and friends. That's why both girls were excited to return to Denair High on March 1 after nearly a year of online-only instruction.
"The past year has been pretty intense, to say the least. It's been hard kind of accepting that this is our last year of high school," Monte said. "Distance learning obviously puts a block on relationships when it comes to art, but I really do appreciate the patience and understanding Mr. Stav has for me. It inspires me to keep working and make art I'm proud of, not just art for an assignment in a class."
Added Vega: "I have always looked forward to Mr. Stav's classes and have been in them since my freshman year. It's been hard not getting hands-on help and it's different doing art at home outside of his class."
Art always will be a part of their lives, the two friends said. Vega, in fact, plans to pursue it as a career by becoming a tattoo artist. Monte wants to be an English teacher, but said that she will continue to use art "in my own ways, like my earrings and crochet projects I love to make."
All the county art entries – including the 11 from Denair students – can be seen as this SCOE virtual display.