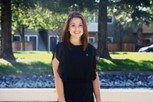 This is one in a series of Q&A's with employees new to Denair Unified in 2022-23.
Family: Fiancé Anthony and our dog Clover.
School: Denair Middle School
Subject taught: English, math and science
Experience and education: I have a BA in psychology and received my Multiple Subject Credential in 2020. I began teaching in 2020 in a sixth-grade GATE classroom and worked there through the 2020-21 and 2021-22 school years.
What attracted you to Denair? What attracted to me Denair was wanting to work in a smaller town with a tight-knit community.
What most inspires you about teaching? What most inspires me about teaching is being able to build meaningful relationships with the students. The students really inspire me to challenge myself as an educator and to continue to learn to bring them the best practices possible.
What is a challenge you look forward to tackling this year? I look forward to the challenge of adjusting to a middle school environment, just like my sixth-graders.
What is your favorite teaching tool or activity? My favorite teaching activity is working on argumentative writing. I love seeing the students thinking and what they are interested in through their topics and research.
What do you want your students to remember? I want my students to remember that my classroom is always a safe place for them and that they could always be true to themselves.
How can parents support what you do? Parents can support what I do by communicating with me and working as a team to help their student throughout the school year.
What would surprise people about your job? What would surprise people about my job is that sixth-graders aren't as scary as most people think! 
What do you do for fun? For fun I like to tend to my plants, ride my beach cruiser and play with my dog.