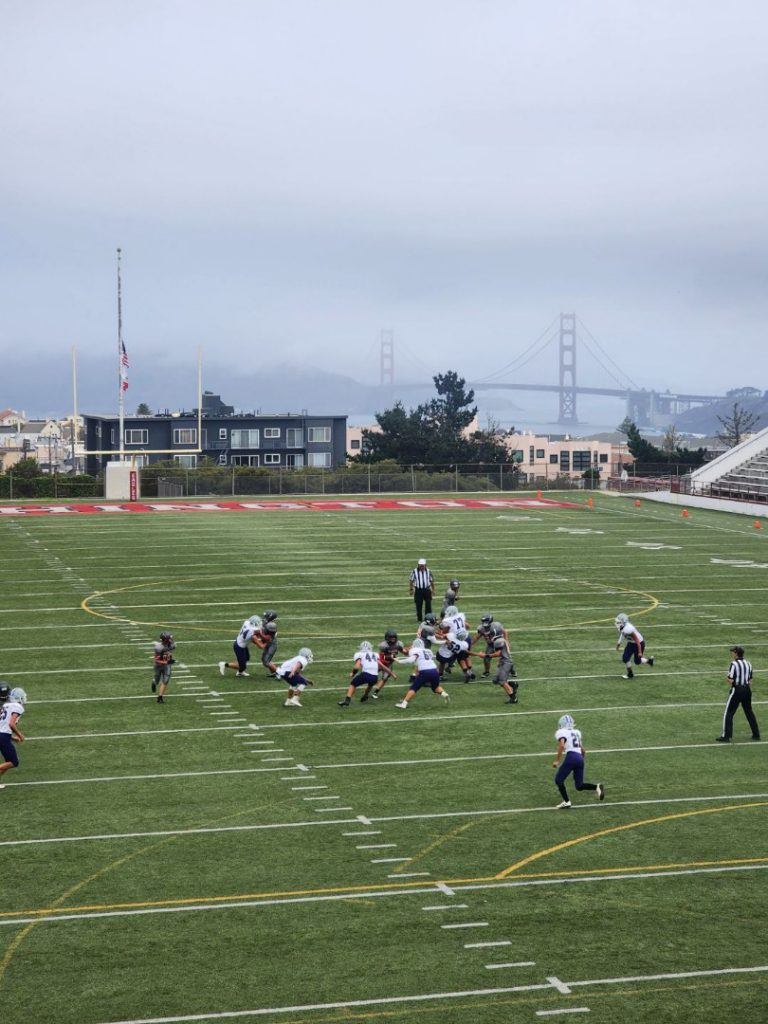 The trip to San Francisco was memorable for Denair High's football players. The actual game, not so much.
The Coyotes, playing in one of the most picturesque high school venues in the country against George Washington High, trailed by only a touchdown at halftime on Saturday afternoon. Turnovers, penalties and a lack of depth torpedoed Denair in the second half, however, as the Eagles ran away to a 41-0 victory.
It was a game Denair Coach Anthony Armas had been trying to schedule for three years, if only because Washington's field sits in the shadow of the Golden Gate Bridge and only a stone's throw from Golden Gate Park.
A scheduling mix-up on Washington's end scuttled the game in 2019 and COVID wiped out last fall's matchup.
Saturday afternoon, then, finally was an opportunity to fulfill one of Armas' goals each year – to play a game outside the Central Valley, sometimes in a place some of his players have never seen. That certainly was true of San Francisco.
"Some of them had never been there," Armas said. "As we were crossing the Bay Bridge, we pointed out Oracle Arena. Here's where the Warriors play. There's where the Giants play. Alcatraz. There's Coit Tower. It was kind of cool for some of the guys."
Denair's bus wound through the heart of the city before arriving at Washington High, which sits on the northern edge of Golden Gate Park with the famous orange bridge plainly in sight from the field.
Unfortunately, the game wasn't as memorable as the view.
"We played awful," Armas said. "We took the opening kickoff and drove inside their 5-yard-line and then fumbled at the 1. They scored and led 7-0 most of the half. We had a chance right before the end of the half but had a touchdown pass called back because of a penalty."
Denair self-destructed in the final two quarters, giving up touchdowns on both an interception return and a fumble recovery in addition to being unable to slow the Eagles' offense.
"They were fast and athletic," Armas said. "They had some bigger kids than we're used to. … I thought it was going to be a cool day, but it turned out to be a rough day."
The loss was the second in three preseason games for Denair (1-2), who fell to Modesto Christian 47-29 in its opener before dominating Riverbank 45-0 in its second game.
If anything, the three non-league contests underscored what Armas already knew about his team – they're going to be underdogs in almost every game because of their small roster (fewer than 20 players) and they won't have much margin for error if they don't play well or have too many players get dinged up.
For instance, when running back and linebacker Anthony Pineda aggravated a hip injury Saturday, the ripple effect was felt on offense and defense.
"We had some guys out of position," Armas said. "In the second half, the wheels just came off."
Things don't get any easier this week as the Southern League schedule kicks off. Up first for Denair? Always tough Ripon Christian (2-1) on the road.
"They're good. They're big. They're fast. They're physical," Armas said. "They've got some kids who can run. They're probably the best team in the league along with Orestimba."
If the preseason is any indication, the Southern League is loaded this year. Le Grand, Mariposa and Delhi all are 3-0 while RC, Orestimba and Gustine each are 2-1.
"I like our kids a lot, but it's going to be a tough year for us," Armas said. "We've got some young guys in spots who are doing pretty well. We just need to do the things we do, cut down our mistakes, make sure we know our assignments and take better angles when we're trying to tackle."
Denair could add a few players who will be eligible after first-quarter grades come out in early October, but the real hope for the future may rest with this year's junior varsity team, which has won two of its three games this fall even though Armas already has five sophomores playing on the varsity.
"They beat Washington 34-14 Saturday and were up 28-0 at halftime," Armas said. "They also played well against Atwater's freshman team, even though they lost."
Following this week's game, the rest of Denair's schedule looks like this: Home games against Gustine (Sept. 23), Le Grand (Sept. 30) and Mariposa (Oct. 7), then at Delhi (Oct. 14), home vs. Orestimba (Oct. 21) and the regular-season finale at home against Waterford (Oct. 28).