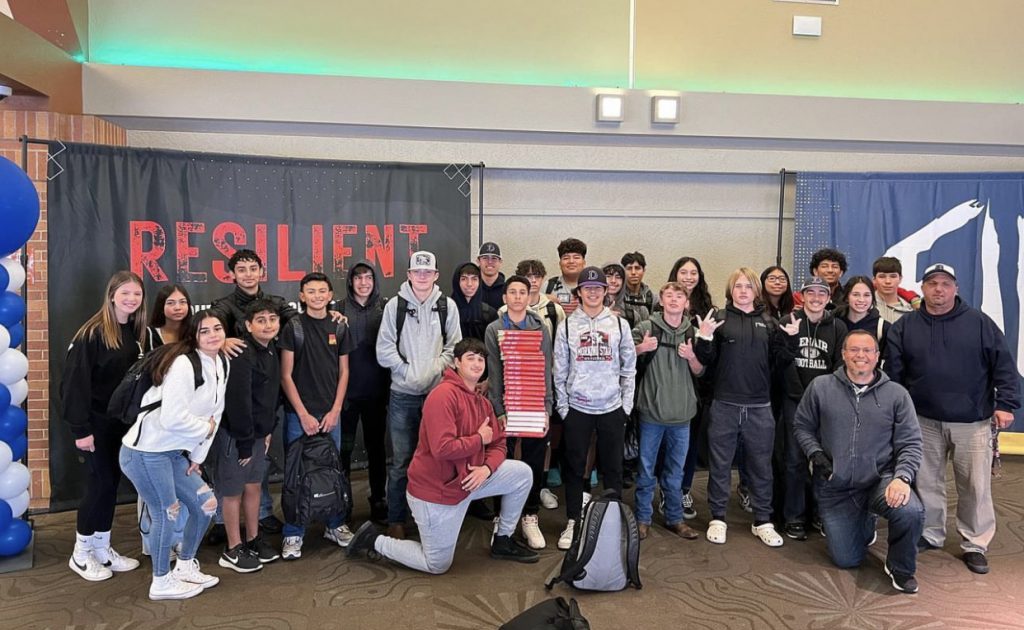 The 287 students at Denair High School are one busy group of teenagers. In addition to a full range of academically challenging classes, there are sports teams, clubs, music and speech, leadership and other extracurricular activities to fill up their days. Wherever their passions may lie, there is probably an organization and opportunity to nurture it.
The breadth of the offerings at the high school was on full display during a presentation Thursday night by Interim Principal Breanne Aguiar, one of her instructors and three of their students at the monthly meeting of the Denair Unified School District Board of Trustees.
The group began by showing a student-produced video entitled "A Day in the Life of a Coyote," which portrayed a typical day on the campus. Set to music, it journeyed from the main office through various classroom settings, student assemblies and other popular events, and included testimonials from students about what they like best about the school.
None of the fun stuff, however, is meant to detract from Denair High's primary mission, which as Aguiar reminded trustees is to prepare students "to achieve college, career and vocational success."
That only happens with a quality staff and an education structure that teaches not only critical thinking skills and important academic concepts, but also exposes students to a range of possibilities beyond high school. Key in that effort, Aguiar explained, are the six Career Technical Education pathways (ag mechanics, ag science, animal science, criminal science investigation, floral design and patient care) that allow students to take classes that could prepare them for good-paying jobs in the future. In addition, Denair students have access to Career Inspiration Center in Empire run by the Stanislaus County Office of Education.
Aguiar also touched on other key academic components on campus, including targeted support for students who need additional help in math or English, credit recovery programs to help students catch up and a special education program that features Project Life (where special ed students learn key skills through work at six local employers). In addition, there are social and emotional support systems that can address students' mental health needs.
Students Paige Wilson, Wilder Diaz and Rylee Gonsalves told trustees about the importance of the many extracurricular activities on campus, which includes nearly 20 clubs as well as sports for boys and girls.
Teacher Darrin Allen described the impact of the Committed Coyote program he advises. It includes 30 students from all grades who agree to model positive behaviors and leadership.
Aguiar also talked about continuing to build a culture of inclusion, diversity and respect at Denair High. Importantly, that includes expanding opportunities for high school students to mentor their younger peers next door at Denair Middle School.
The high school presentation was the first in a series of deeper dives into campus life that will come before trustees. In future months, board members will hear from leaders and students at the middle school, Denair Elementary Charter Academy and Denair Charter Academy.
In other action Thursday night, trustees:
Voted 5-0 to approve the School Plans for Student Achievement at the high school and middle school. They lay out specific goals and objectives and ways to achieve them at each campus.
Heard a short report from Superintendent Terry Metzger on the VIA heart health screenings held Nov. 6 at the middle school. The Bay Area group saw 128 people ages 12 to 25 and identified eight cases that required follow-up, including one that may have been life-threatening, Metzger said. The screenings took about 40 minutes. They were paid for by the EMC Health Foundation of Turlock.