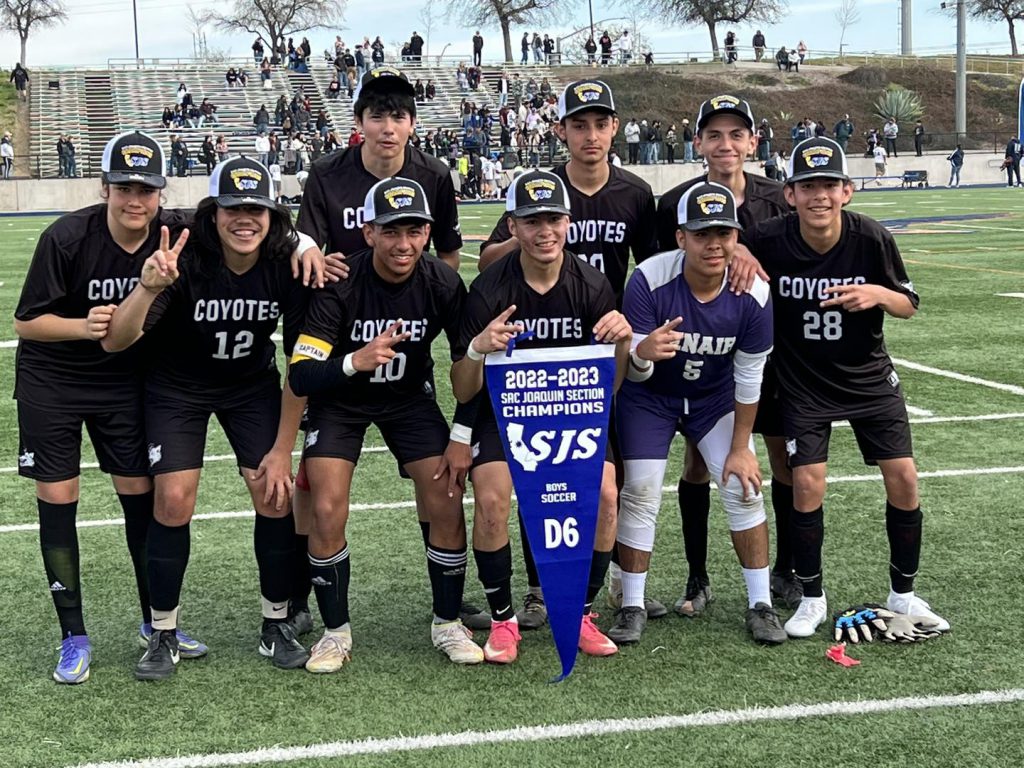 There will be another blue banner going up in the Denair High gym denoting a Sac-Joaquin Section championship after the boys soccer team swept to their second straight Division VI title with three convincing victories last week.
The Coyotes – with Angel Sanchez and Diego Padilla sparking the offense and Emanuel Renteria leading a tenacious defense – proved why they were the No. 1 seed in the Division VI tournament.
Playing at home on Feb. 14, Denair defeated No. 8 Millennium of Tracy 6-1 as Sanchez scored four times. The Coyotes led 2-1 at halftime, then scored four goals in the second half to easily pull away.
Two nights later, Denair shut out No. 4 seed Rio Vista 5-0, also at home. Sanchez scored three more times, Padilla added another and they combined to force an own goal from Rio Vista's defense.
Saturday's championship match against No. 2 Esparto was held at Cosumnes River College in Sacramento. Sanchez got the Coyotes off to a hot start with a goal barely a minute into the game and Padilla added another on a penalty kick later in the first half. That was all the offense Denair would need as Renteria controlled the middle of the field, keeping the pressure off goalie Sergio Torres, who only had to make four saves.
Now, the Coyotes (16-10-4) await word of their seeding and first-round opponent in the Northern California tournament, which begins Feb. 28. Denair reached the same point last year and lost.
"The sooner the better," said first-year coach Antonio Padilla, when asked when he expects the NorCal pairings to be released. "We're hoping for a home match."
Denair finished third in the Southern League this season but appears to be peaking at the right time. The Coyotes are 12-2-1 in their past 15 matches.
Sanchez, a senior, has been the star on offense all year long. He has scored 49 goals, ranking him in the top five among all players in California and in the top 10 nationally.
It's Renteria and the Coyotes' defense, however, that really gets Padilla excited.
"Emanuel is something else. He's good. He plays in the center of the field, can switch both sides and is a tremendous defender," Padilla said. "We try to stop the opponent's attack at midfield. If we can control the middle, we can control the game."
With a week off, Padilla said he will have "high-intensity" practices through Friday in an effort to keep his players sharp.
"They've been working hard and I'm proud of them," he said. "I told them that they represent Denair and we want to represent the town in a positive way."