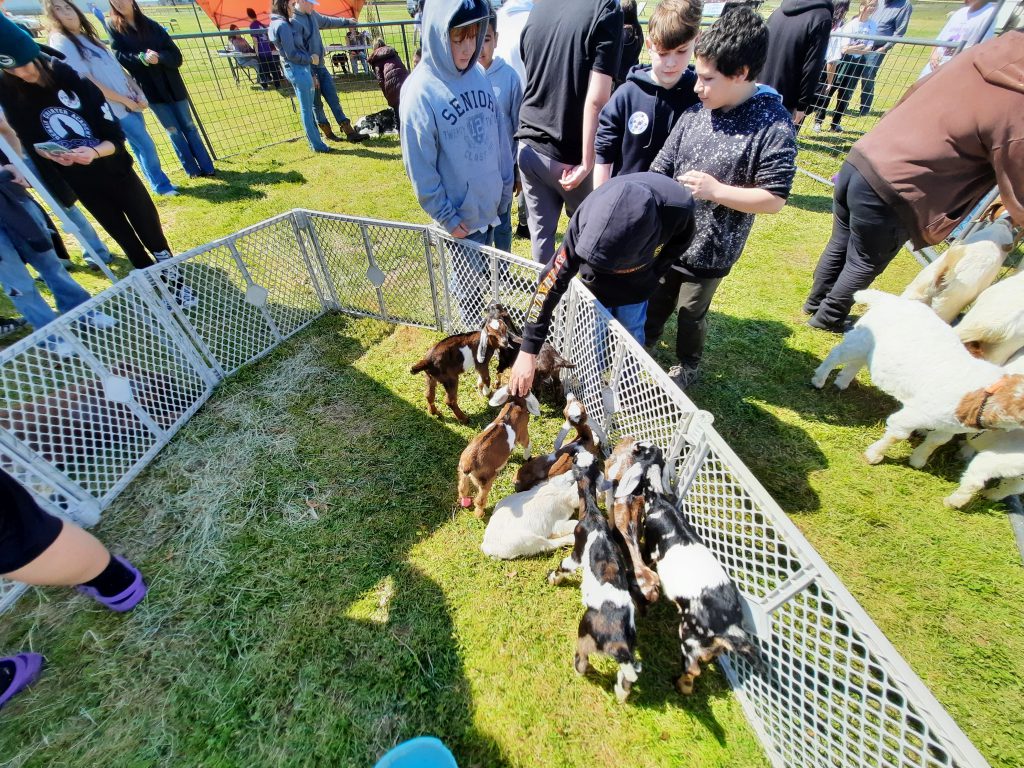 The petting zoo full of adorable young animals may have drawn the most oohs and aahs Thursday as Denair High School celebrated Ag Day, but there were plenty of other ag-related industries and potential career paths on display.
The annual event is intended to shine a light on the importance of agribusiness and all its facets in the community. It provides an opportunity for local businesses to educate students of all ages about the kinds of things produced and the many different kinds of local jobs that exist to support ag. It also is a chance for high school students to learn more about ag-related careers and for younger students to be exposed to what happens on the high school campus.
"It is an opportunity to expose the entire district to ag," explained Holli Jacobsen, an ag teacher at Denair High and the event's organizer.
Students from the other nearby Denair campuses – Denair Elementary Charter Academy, Denair Middle School and Denair Charter Academy – rotated to the grassy area behind the high school throughout the day. Music was playing as Denair High's coyote mascot and another student dressed as the Easter Bunny kept everyone entertained while posing for photos with students on a beautiful, cloudless spring day.
The younger students arrived first one class at a time. Many were naturally drawn to the petting zoo, where young goats, calves, pigs and chickens were available to touch and see close up. Nearby were larger horses and show pigs as well as a dog that is part of the Stanislaus County Sheriff's Department K-9 Unit.
There also were three specific educational components to the event for elementary students.
Members of the high school's Hispanic Youth Leadership Council (HYLC) presented a lesson in Spanish about almond trees to students who are in DECA's dual-language immersion program.
High school FFA volunteers led a session on pigs and ear notching.
Another group showed youngsters how butter is made and gave them samples of local cheeses to taste.
There was plenty else to see among the 18 vendors, ranging from tractors to pickup trucks and large diesel semis to a local feed store, a farm credit agency, a farm irrigation company, an animal genetics business, a pallet company and many others. A few non-ag outfits also were present. In addition, there were representatives from a number of Denair High clubs and organizations offering information to middle school students.
The middle school and high school students also enjoyed a barbecue lunch prepared by the school district's food services staff.