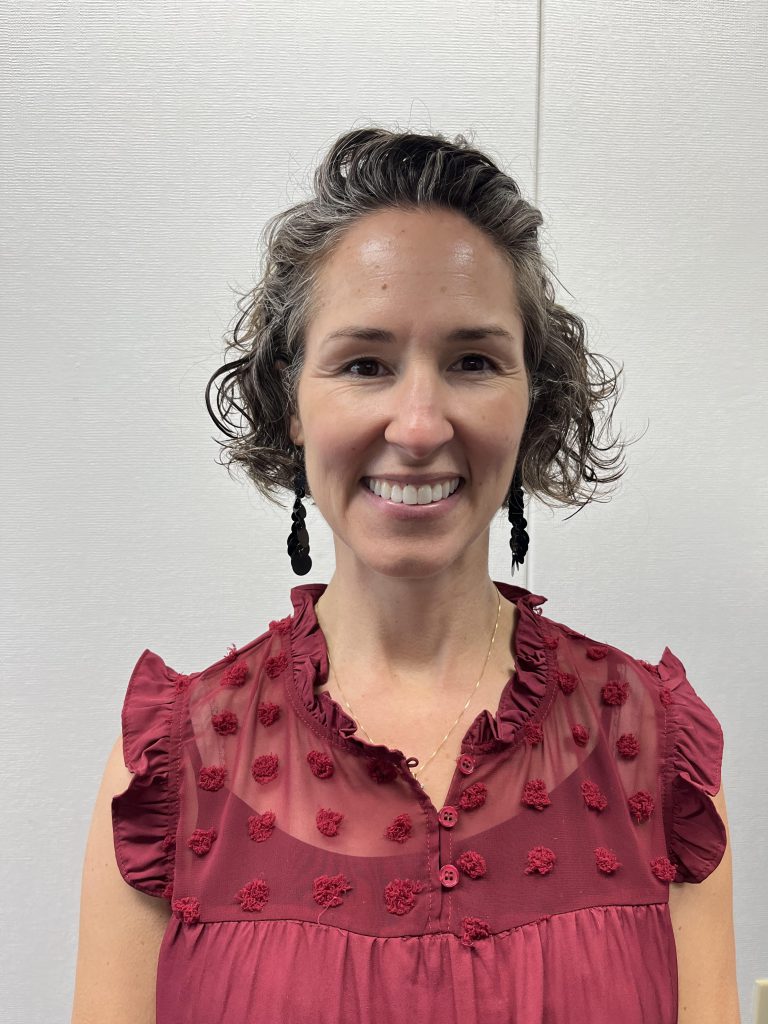 When the principal's job opened up this spring at Denair Charter Academy, the school district didn't have to look far for a well-qualified, enthusiastic and popular replacement. Jamie Pecot – who has taught in and then led the school's math program the past nine years – was an easy choice.
"Jamie knows the DCA program very well, has strong relationships with students and has the full confidence of staff. Cheers erupted on campus when her appointment was announced!" said Denair Unified Superintendent Terry Metzger, who promoted Pecot in May.
Pecot is well-versed in DCA's unique mission in the district – which is to work with home-school parents and their children in grades K-8 and also provide an independent study option for high school students for whom a traditional setting just isn't the right fit. Pecot's experience as a teacher gives her a valuable perspective on how to balance those important and very different responsibilities.
"One of the best parts to working with DCA is that we get to make individualized lesson plans for students in order to engage the student and advance them in their education," Pecot explained.
Thanks to her background in the district – she began teaching math at Denair High School in 2005, then moved to DCA in 2014 – Pecot hit the ground running in her new position. She also has previous management experience as the summer school co-principal for four years as well as filling in during gaps between previous DCA principals.
"Each time, they have been a short-term experiences where I have time to be immersed in the daily workings of a principal and get a taste of the balancing act, then my duties are complete and I have time to reflect on the happenings," Pecot said. "I feel like I was on the JV team before, getting experience and learning, and now I am ready for the varsity team and make DUSD proud of all the great programs going on at DCA."
Metzger credited Pecot for having "taken on progressively more complex leadership roles at DCA over the last several years" and believes that background prepared her to become the full-time principal.
"Jamie has already started planning for next year and is working on some ideas to further improve services and programs for DCA students and their families. She's taking a methodical approach to learning all of the facets of the principal role and I appreciate her thoughtful questions. She's going to be a great addition to our administrative team," Metzger said.
Pecot will lead a staff of 24 teachers. DCA's enrollment currently sits at about 120, but that number always rises in the fall as high school students from throughout the region find their way to the independent study program. Regardless of age or grade level, Pecot said the relationships the staff forge with students and families is the key to their success.
"The staff is an energetic group of professionals with great ideas and a heart for helping students," she said. "Our staff goes above and beyond to help students and find resources for the families when we can. Each staff member has a certain population of students that he/she really connects with. The difference in the population could be age group or personality type. We do a great job of matching the student with the staff member who is going to help the student reach his/her goals."
Pecot grew up in Livermore, then came to the Central Valley when she enrolled at CSU Stanislaus. She "fell in love with the community, pace of life and friendliness of the community," and can't imagine living anywhere else today.
She has a degree in math as well as an administrative credential. Outside of work, Pecot and her husband enjoy traveling with their two daughters on fun trips. So far, they have visited 13 states and two other countries.